Teacher – Mr Hartney
Teaching Assistant – Miss Walker
Welcome to Year 5
Year 5 is an exciting year at St Peter's. This year the children take on additional responsibilities as play leaders supporting our younger infant children at lunchtime. We enjoy a great residential at Robinwood building our relationships and pushing ourselves out of our comfort zone in amazing challenges. We take the next steps in our academic work, developing our knowledge and understanding across a wide range of subjects in exciting ways, and making links through all that we do.
During Guided Reading sessions, we use a diverse range of texts. These include extracts from classic literature, poetry, and non-fiction. Our current class novel is Clockwork, by Philip Pullman.
Year 5 Prayers
Please find a copy of the prayers that we use in school. You can also use this at home. Year 5 Prayer Booklet
Knowledge Organisers
Please note we are unable to display some knowledge organisers due to copyright. If you would like access to missing knowledge organisers for art, D&T or computing, please contact school and we'll be happy to provide these.
Class events and photos
Design and Technology
Wow! Our half term homework project was out of this world! Some really innovative designs to demonstrate some fantastic 'sticky' knowledge. Well done Year 5. Myself and Miss Walker are super proud of all your (and your parents!) hard work.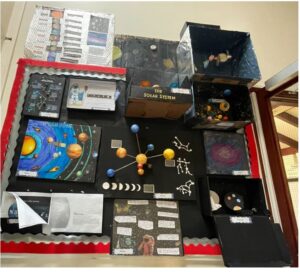 Jodrell Bank visit
We had an amazing day at Jodrell Bank Observatory, which tied in beautifully with our topic about Earth and space.
Maths
Magical mathematicians! We worked collaboratively to solve a tricky puzzle involving converting fractions to decimals and vice versa. A particular shout out for Shay, Molly and Michael who did an incredible job on this challenging extension task.
Well done guys!
Geography
Year 5 have been geographers this week. We have been studying contour lines that show high and low areas of land measured in metres above sea level. Using potatoes was a half 'baked' idea to be honest, but we managed to 'chip' away and sMASHed out some great pieces of work!
RE
This week in RE, we have been learning about the story of creation.
Adelyn demonstrating her fantastic handwriting and presentation. Well done Adelyn!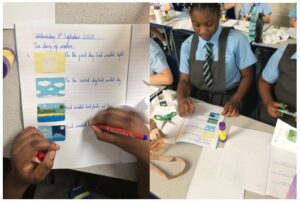 Science
We began our topic on earth and space by creating a piece of artwork as our front cover.
We then went outside and played the part of planets to replicate how they orbit the Sun in different amounts of time.