Teacher – Mrs Russell
Teaching Assistants – Mrs Armstrong and Mrs S. Broadbent
A Warm Welcome to Year 2 from Mrs Russell
A Warm Welcome to Year 2 from Mrs Russell
I would like to wish you and your child a warm welcome into Year 2. I hope the children all have a lovely year and learn lots of new and exciting things.
There are a few little pieces of information that I think will be useful for you to know as we go through the school year. This information will also be available on the school website. If you would like to speak to me about any issue you are more than welcome to come to Y2's door before the bell goes at 8.50am, or, if you prefer, at home time. If this isn't possible please give me a call and we can arrange a mutually beneficial time. Alternatively, you can always send me a little note.
Staff
I will be with the children every day. However, I will not be in on Monday afternoons and Wednesday mornings. On these days, Mrs Williams will be teaching our special topics of science and geography/history.
Mrs Armstrong and Mrs Broadbent are our Teaching Assistant and she will be in class every day.
P.E. and Dance
The children need their PE kit to be in school on Wednesdays and Thursdays. We will being doing dance on Wednesdays in Autumn 1, Spring 1 and Summer 1, and PE with Terri every Thursday. PE kits can be taken home at the end of each half term.
Reading Books
We hear the children read daily during our Guided Reading sessions. Alongside this, we hear them read their reading books at least once a week. Please could the children bring in their reading books everyday so that we can use every available opportunity to hear them read.
Increasing Responsibility
As the children are now the oldest in KS1, we have allocated everybody a special job or role to carry out. This helps them to become more independent and reflects their growing maturity. They should all be able to tell you what their special job is. These little jobs will change each half term.
Star of the Day
We will be celebrating 'Star of the Day' in Year 2. We will have a class poster displaying a photo of our 'Star of the Day' so anyone visiting our classroom can also celebrate their achievement. In addition to this, when a child is chosen as 'Star of the Day' they will receive a sticker.
I hope the children really enjoy their time in Year 2. As stated above, any problems or queries please let me know.
Thank you,
Mrs Russell
Year 2 Prayers
Please find a copy of the prayers that we use in school. You can also use this at home. Year 2 Prayer Booklet
Knowledge Organisers
Please note we are unable to display some knowledge organisers due to copyright. If you would like access to missing knowledge organisers for art, D&T or computing, please contact school and we'll be happy to provide these.
Year 2 picnic – healthy wraps 😊
For our D and T lesson, we made healthy wraps. To make our wraps we used cucumber, lettuce, tuna, cheese, tomato and mayonnaise. We chose what we would like to put on our wrap. It was lovely that some of our year 2 parents were able to join us at our 'healthy picnic.' We even invited some of our year 5 children to try our tasty wraps and the feedback we received was amazing!
Year 2 class trip – Manchester Airport
Year 2 visited Manchester Airport for their class trip. We had a fantastic time and enjoyed watching the aeroplanes and learning all about them from our tour guide, Sophie. The children really loved this experience. We hope you enjoy looking through the pictures.
Prayer Share
We had a lovely time at our first prayer share. It was lovely to be joined by some of our parents too. We are looking forward to the next one, when more of our lovely year 2 parents can join us. The theme for this prayer share was 'Our Mother, Mary.' We made flower bouquets to represent the crown of flowers that was placed on Mary's head, and we spoke about how special Mary is to us. This was a very special prayer share. I hope you enjoy looking at these pictures.
D and T – Moving Monster
For Design and Technology, we designed and made a moving monster – a dragon. We have been learning lots about dragons this term in year 2 and I'm sure the children can tell you all about Zog and Marmaduke. The children really enjoyed this day and worked very hard on their designs before making the final product – their moving dragons. We hope you enjoy looking at the pictures of our dragons.
New Life
We were so lucky to be able to meet some beautiful chicks at school. School received a delivery of chick eggs, to incubate and hatch into beautiful new chicks, representing 'new life' at spring time and Easter. We loved holding and cuddling these chicks, it was very special.
Easter Gardens
Year 2 made some beautiful Easter Gardens as part of our Easter arts and crafts. These gardens are a symbol of Jesus and represent the importance of remembering our Savior during Easter. The children worked incredibly hard and I am sure you will agree that their gardens look very beautiful.
Pirate Day
We had such a fun time at school on 'Pirate Day.' We came to school dressed as pirates, and we all looked fantastic! We did lots of fun activities throughout the day which included walking the plank, writing interesting facts about pirates, looking at treasure maps, playing a pirate game, and making a pirate passport. We had a fantastic day; we hope you enjoy looking at our pictures.
Art
In year 2 we have been looking at skulls, taking inspiration from Damien Hirst's 'Cornucopia' collection. The children traced an image of a skull and then adorned it using a medium and a pattern of their choice. The children's artwork looks amazing!
Sponsored Dance for Cafod and Mary's Meals
The children had an amazing time in the hall with Year 1, dancing to some party classics! Altogether the children did EIGHT dances in 30 minutes! This is incredible. They were all such great sports and really tried their best to follow the moves. Well done everyone!
Cheetham Park
Year 2 visited Cheetham's Park as part of their science topic, Habitats. The children completed an activity book during their adventure, which they all found really interesting. It was a great afternoon and we all behaved beautifully and had lots of exciting fun.
Dolls
We had a lovely time in Year 2 making models of dolls using lots of different materials. We made these dolls as a whole school and donated them for a display to raise money for a children's charity. We hope you like looking at some of the dolls we made.
World Book Day
We had such a lovely time on World Book Day. We came to school dressed as in our comfiest Pyjamas and brought our favourite book to read. We spent some time in our World Book Day quiet reading area, listening to a story, surrounded by pillows, blankets and twinkling lights. It was so relaxing, we almost fell asleep 😊
On World Book Day we also read the book Supertato and made our very own Supertato, which was incredibly fun! We got to bring our potatoes home – I hope you liked them!
Art
In Art, Year 2 looked at different collages. The children understand that collages are made up of a collection of different materials. To make our own collages, we used our own faces and cut out different peoples eyes, ears and noses from a magazine and stuck these onto our face. We had so much fun and found this art work rather amusing. 😊
Art
We have been getting very creative in Art. We used Lego bricks, paper and wax crayons to create rubbing patterns and then frottage to create a picture of Paddington Bear. Here are some examples of our work.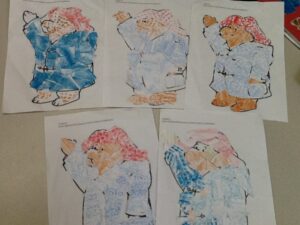 Using kind words
We have been thinking about the importance of using kind words to others. We passed one apple around the circle and we all said lovely kind things to it with a smile. Then we passed the other apple around the circle and said lots of unkind words with cross faces. Both apples looked the same on the outside but when we cut them open we had a big surprise. The apple that we had been unkind to was all bruised and hurt. We now know that if we have nothing nice to say, we should say nothing at all.
Art
Year 2 had a lovely time getting creative in Art. They used everyday objects to print and make patterns. Here are some examples of our work.
Paddington Bear
We have a very special visitor in the year 2 classroom this week. Our special visitor is Paddington Bear. We have enjoyed learning all about Paddington Bear and have enjoyed making Paddington's favourite food, marmalade sandwiches! After we made our sandwiches, we had a lovely picnic together and enjoyed eating them.