Welcome to Reception!
September 2023
Teachers – Mrs. S Cooke (Monday-Wednesday) and Mrs. G Kirkpatrick (Thursday-Friday)
TA – Mrs C. Green
In Reception, your children will spend their days exploring the various areas of provision our classroom and Percy's Park outdoors, making new friends and building upon existing friendships. We work together through the Early Years Curriculum to learn new skills, share new experiences and have lots of fun!
Here are some reminders about our routines and expectations:
Water Bottles- Your child will need to bring a water bottle to school every day which they will have constant access to in the classroom. Water bottles will be refilled as necessary and returned home each evening.
Reading– We hear the children read at least once a week and then they take the book home. Please share this book at least 4/5 times each week and leave us a comment to let us know how your child has done or what you have discussed. Books are changed on a Friday; we ask that you send your child's book into school every day as their reading day in school may be subject to change.
Spelling– As your child becomes more confident with their literacy skills, we will send home some harder to read or spell (tricky) Words. These words are tricky because they cannot use their phonic knowledge to sound out. They just need to learn to read and write them independently. We will check them regularly to see if they are ready for the next set of tricky words.
PE– PE day is a Monday; please send your child with their kit from the first Monday each half term. will remain in school for the whole half term. Please support your child in becoming independent at getting dressed and undressed to support these skills in school. Getting changed for PE will be a gradual process each week, so your child's kit might stay in school for the first two half terms if they have not worn their full kit for every PE lesson.
Homework– Your child will be given a small challenge to take home each week – this might be linked to English, maths, RE or another area we have been working on in class. It will be sent home in their books on a Friday to be returned on a Monday. It would be a great help if you could make a comment on the homework to let us know how your child found the challenge and how much support they needed.
Tapestry– We will be using Tapestry to document 'wow' moments throughout the week. You will soon receive instructions to set up your account. Tapestry is a fantastic tool that allows us to capture and assess children's learning, and for you to share in their time at school. We would ask that you do not send us any messages via Tapestry and to email the school office, call or visit us with any queries. This is because we might not see your message as promptly on Tapestry as we would like.
We welcome you to come to us with any questions or queries you might have about your child or school. Our door is open each morning; we would ask that you visit us before 8.30 so that we can ensure we are ready for the children.
You may also email non-urgent queries to: admin@st-peters.tameside.sch.uk or call the school and leave a message.
We are so excited to spend this year supporting your children to learn, play, explore and develop new skills.
Thank you for your support,
Mrs. Cooke, Mrs Kirkpatrick and Mrs. Green :-)
RE Knowledge Organisers
PSED: World Mental Health Day
We talked about feelings we might have, what they might look like and what we might do if we are experiencing those feelings. We talked about how it is ok to feel all of these different feelings and the things we could do if the feeling didn't feel very nice. The children had lots of super ideas and were able to identify the feelings in the emoji pictures. They enjoyed having a go at making the faces themselves! Some children then created drawings of these feelings and we learned how to use the iPad to take photos of each other showing the different emotions.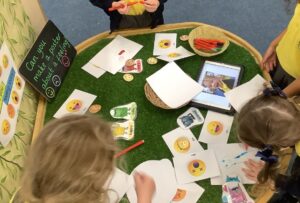 God Loves Me!
In our time with Jesus in Reception, we have been exploring God's beautiful world. We have been singing lots of different hymns which make us feel happy and we have talked about how God loves EVERYONE around the world, even when we make mistakes.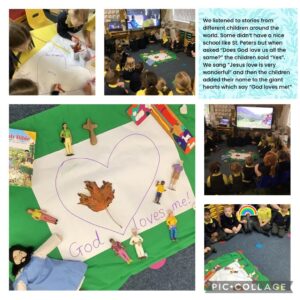 New School Year, New School Adventures – Welcome Reception Class 23-24!
We have had a very busy, but wonderful, start to the new year here in Reception! Children have been exploring their indoor and outdoor environments, getting used to new routines, going to the hall for lunch and assemblies and gathering as a class to begin sharing in some music, phonics and maths learning sessions. The focus has been on the prime areas of learning – ensuring children feel happy, safe and secure and have lots of opportunities to develop new skills and friendships. We have shared lots of circle times, practicing taking turns and talking about feelings and emotions with a little help from The Colour Monster. Here are a few pictures of our first weeks in Reception – please keep a look out for more photos on this page and on Tapestry.
Fact or fiction? Outdoor Literacy lesson
This week on Thursday, we welcomed some mild, sunny weather and took our learning outside. We sorted books from Fiction or Non-fiction and then pulled sentences (linked to our work on lifecycles) out of a magic bag. The children had to help me to read the sentence and then run to the Fact or Fiction corners to vote for which one they thought matched the sentence. We had so much fun! Well done everyone!
Our class assembly – Traditional Tales
We were so very proud of how hard our children worked for their assembly on Traditional Tales – they all tried their very best and the singing and dancing was simply fabulous! What a beautiful end to a lovely topic of learning. Thank you to our parents for helping the children to prepare for their first class assembly.
Multi-faith week – Judaism
This week the children learnt about one of the Jewish New Year festivals Tu B'Shevat, which is the Jewish 'New Year for Trees'. As a school we planted a new tree in our Forest school area. As a class, Reception planted bulbs in Percy's park and created tree art works using collage and paints.
Children decorated cards with their name and we created a lovely display after our circle time.
Getting to know Jesus
We have been getting to know Jesus better each week this half term. Children heard about how Jesus told his friends to bring the children to him – that Jesus knew how special all children are. We found out that Jesus knows our names!
Children decorated cards with their name and we created a lovely display after our circle time.
Lunar New Year Celebrations
We had such a wonderful week learning all about different cultures and how they celebrate the Lunar New Year. Children learned ordinal numbers in maths through the story of The Great Race – we ventured outdoors to create a line of numbers in order.
Our Learning Links day with Nursery was a huge success and children created Rabbit art work and Chinese lanterns, tasted Chinese food and took part in Dragon Dances with traditional Chinese music and musical instruments. Thank you to our parent volunteers who helped to enrich this important experience for our children.
Computing – Bee Bots
Our Reception children experience programming through using our very clever Bee Bots. The children have been learning how to input commands into the Bots, before pressing go and watching the BeeBot follow their directions!
When Maths meets Art in Reception
Reception blew our socks off when they created these fabulous circle art works in the style of artist Fiona Rae. They used different-sized paper circles to overlap and then created the detail using pastels. In maths, we looked at the properties of circles and spotted circles in our environment!
Christmas in Reception
The children have been so busy this festive season – here are some of our special memories of our Christmas celebrations!
What's in the Witch's Kitchen by Nick Sharratt
We have loved reading 'What's in the Witch's Kitchen?' by Nick Sharratt this week. Early this morning (even before Mrs Cooke arrived at school!) Winnie the Witch flew by and left us some treats from her kitchen to taste! The children that wanted to try a small piece used their sense of taste and thought of words to describe the taste. They were able to say whether they liked it or not and why.
Winnie also left her magic hat for us to wear and some special jewels that we could use in the creative area! Lots of children enjoyed making magic wands or their own witches hat!
World Mental Health Day
This week, we took part in #HelloYellow for World Mental Health Day. Reception really enjoyed using the #HelloYellow props in our own class photo booth! The children took their own photos using the iPads. Some super photos and posing, we're sure you'll agree!
Our first few weeks in Reception
Reception class have had the most wonderful few weeks in school and we are so thrilled with how well they have settled. Children are already displaying super learning behaviour, kindness to others and helpfulness in our classroom. They are using our class resources beautifully and demonstrating wonderful learning through play.
Here are a few photos from our time in school these past few weeks. We are sorry that Tapestry was not working the past week or so, but please keep checking for 'wow' moments each week of your child individually or learning in a group.