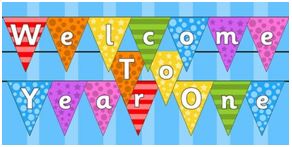 A warm welcome to Year 1 from Mrs. Cooke and Mrs. Kirkpatrick!
In Year 1, our aim is to ensure that the children experience a smooth transition from the Foundation Stage to Key Stage One. The Year 1 curriculum builds upon and extends the experiences that children have had in Reception. Learning through play will continue to be an important part of the school day, and the children will gradually be eased into more formal learning as the year goes on so that they remain motivated, enthused and eager learners.
Please do not hesitate to come and see us either before or after school if you have any questions or queries. Before school we would ask that you come in before 8.40, as we need to ensure we welcome the children on time and with our full attention.
If you wish to contact us, please either call the office or you can also email us at
year1@st-peters.tameside.sch.uk. Please be aware that teachers may not be able to respond to emails immediately and all matters that need handling promptly should be directed to the office, or by speaking to us before or after school.
We hope that your child has a happy and fun year in Year 1 – we look forward to seeing them shine every day 😊
Just a few reminders:
Staffing structure:
Class teachers: Mrs. Cooke (Mon-Weds) and Mrs. Kirkpatrick (Thurs-Fri)
Teaching assistants: Mrs. Green and Mrs. Callaghan (AM only)
PE Kits
Please make sure your child's PE kit is fully labelled and in school. These will be kept on your child's peg until the end of each half term when they will be sent home for washing. Our PE day is Thursday and in Autumn 1 we will also be changing for Dance on Wednesdays.
Reading books
Year 1 is a really important year for children's reading development. Once your child has been issued with a book, please read with your child every night and note a brief comment in their reading record about how they did. Please send their reading book and record in every day. We will move your child to the next book when they are confident with the book they are on. We will read with your child at least once per week and plentiful reading opportunities will also be embedded into the curriculum and during their free learning time.
Spellings
Your child will receive a set of spellings every Monday – please help your child to learn these (reading and writing) at home for a little spelling challenge on Fridays.
Homework
Homework will be given out on a Friday – one piece of English and one piece of Maths. It will usually be a consolidation of what we have been learning about in class and should not take longer than around 15-20 minutes. Please return homework books on a Monday morning.
Water bottles
Until further notice, children will still need to bring a labelled bottle of water into school.
If you have any questions whatsoever, please do not hesitate to ask.
Thank you for your continued support,
The Year 1 Team 😊
Year 1 Prayers
Please find a copy of the prayers that we use in school. You can also use this at home Year 1 Prayer Booklet
Knowledge Organisers
Please note we are unable to display some knowledge organisers due to copyright. If you would like access to missing knowledge organisers for art, D&T or computing, please contact school and we'll be happy to provide these.
Farewell, Miss. Maher!
This week it was Miss. Maher's last day with us in Year 1. Miss. Maher has now completed her first placement for her Post Graduate in Education, and will now move on to another school to complete a placement in Key Stage Two.
Miss. Maher has been a huge asset to us in Year 1 and we, both staff and children, will miss her cheerful manner, exciting lessons and friendly face each day. We know Miss. Maher will make a fabulous teacher and we will miss her very much – the good news is she promises to visit us all very soon! Good luck Miss. Maher!
Here is Miss. Maher accepting one of her little gifts from Year 1 – a painting of Dave the Sloth, floating under lovely fingerprint balloons from all of our childen.
Happy New Year! Our first week back in Year 1
Happy New Year to all Year 1 families, we hope you have had a restful break. We are so proud of all our wonderful children for settling straight back into Year 1 life! In English this week we've been reading What the Ladybird Heard and describing the animals, writing thought sentences and creating our own farm maps and writing instructions using bossy (imperative) verbs.
On Thursday we celebrated the feast of the Epiphany with a beautiful Prayer and Liturgy shared with Year 2, where we heard about the wise men visiting Jesus before reflecting on the gifts WE have to offer to others in this New Year.
In Art, we have learnt how to draw some of the farm animals from our story and used watercolour paints to paint them, ready for a farm display. What a fun and busy week Year 1! Well done everyone.
Christmas week
What a busy and joyful week we have had in Year 1! We have been so busy making our Christmas crafts, joining in some beautiful prayer and liturgy reflections and having lots of fun on Christmas Party Day! Here are some photos of our busy week. We wish all of our wonderful children and their families a very Merry Christmas and a happy and healthy New Year for 2022. Thank you for all of your support this year, we look forward to seeing you all in January.
Art: Sculpture Final Pieces
We are such a creative class in Year 1! Children enjoyed making their very own clay snowman sculpture and were so careful in sculpting the clay and joining it together with water. We added detail with tools and some children used their leftover clay to add accessories and even snow babies! Well done Year 1!
D&T Day: Textile puppets
After a simply super week practising and performing our Christmas Carol Concerts, Year 1 enjoyed a full day of Design and Technology where they got the chance to explore lots of new learning about textiles, fabrics and decorating fabrics. We first explored different ways to attach felt together: safety pins, glue and staples and children voted for their favourite one. Next, children designed their own hand puppet before using fabrics, beads, buttons and ribbon to decorate their puppets. They did such a super job – especially with tidying up the classroom at the end! Well done Year 1!

Advent
Advent begins this weekend and in Year 1 we have been talking about how we are 'getting ready' for Christmas. During today's prayer and liturgy the children sang "Stay Awake, Be Ready" and we talked about different ways of preparing for Jesus' birthday. We looked at the advent wreath and what each candle means to us and we then thought about ways we could become even better versions of ourselves by writing Advent promises.
Investigating Poo!
Some cheeky animals came to our school, ate some of Zoe's dinners and then left a big mess in our classroom on the way out! We used our investigation skills to try to work out which animals did it by searching through the poo for clues! Some contained only grass and plants, some contained only bones and some contained both. We found out that some animals are herbivores (only eating plants), some are carnivores (only eating meat) and some are omnivores (eat both plants and meat).
Being Bee-Bots!
We pretended to be Bee Bots and worked in groups to give precise instructions to guide our Bee Bot friend to a certain place! We had to use our listening skills very carefully and do exactly as we were told by the 'controller'. We thought we were just as good as a real Bee Bot at listening to instructions, but that real Bee Bots could remember a tricky algorithm better.
Art – Bear Hunt/Children in Need Bear sculptures
This week's art lesson was to use junk modelling and recycled materials to create our very own bears! Children first designed their bear and then worked independently and had a huge range of materials to work with and were allowed to choose anything they liked to create their bears. Children were given glue and tape to connect their materials and did a super job! They could choose whether they created a bear from our story We're Going on a Bear Hunt or, because it was Children in Need day, Pudsey Bear! Everyone did a super job!
Bee Bots
We have been talking about algorithms in Computing so this week we were tasked with giving the Bee Bots a set of instructions to meet the challenge. The children had to make the Bee Bot spin on the spot, build a bridge for the Bee Bot to travel under and make the Bee Bot reach the table leg from a given start line!
Diwali
This week we have learnt about the Hindu festival of light, Diwali. We have made beautiful pictures, done a Diwali celebration dance and made Diva lamps out of clay in our art lesson. We also joined forces with Year 2 and gathered on the playground where we learnt about Rangoli patterns and their symbol of good luck to those who celebrate Diwali. Children helped to decorate a giant Rangoli pattern using coloured rice and chalk.
The Annunciation
Today we gathered together to share the story of The Angel Gabriel visiting Mary. Children listened to the story and helped to act out the roles of Mary and the Angel. We sand The Angelus for Mary and thanked God that Mary was brave and said "Yes!" to God. We then wrote down answers to two 'Big Questions' on post its. Well done Year 1!
Magic potions.
This week's book is making us all feel a little bit spellbound this week! The Witch from the story got herself into a real pickle when she visited our classroom and dropped all of her spells! She also left a few ingredients and we were challenged to read the spells to try and find out which spell matched the ingredients! Children did some super decoding of the words in the potions and then helped Mrs. Kirkpatrick to make the potion using our super maths knowledge about volume and capacity!
Skeletons!
In Science this week we thought about the structure of human and animal skeletons. We made a human skeleton out of dog treat bones and cotton buds and were able to name some of the bones. We then thought about animals that live in the sea. We named some sea animals and then attempted to make a fish skeleton. We thought about the shape of a fish and how it moves then compared it to our human skeletons.
Room on the Broom
We loved reading and retelling the story of Room on the Broom using the teddies! These have been in our reading corner all week and we have loved doing some independent role play!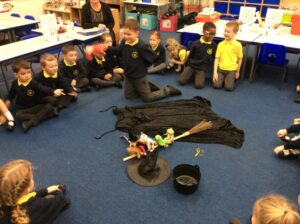 Hedgehog Homes
Mrs Cooke's friend had some Autumn visitors to her garden recently! Year 1 were tasked with the job of making a comfortable home for the hedgehogs to enjoy! We observed some materials and made choices about which materials we would use based on the properties e.g. plastic for a cover as it is waterproof, a cardboard box as it is strong. We placed some around the school grounds in case any creatures are looking for a shelter this Autumn and we will give two to Mrs Cooke's friend for her visitors! We were rewarded with warm Vimto and marshmallows for our hard work 😊
Goodbye to our friend, Boney!
Last week we found out that the skeleton frog had escaped from the Funnybones Zoo and we are happy to announce that, following a super poster campaign from the children – he was found! Boney the frog appeared at the front door of our school and Mrs. Ryan returned him to the classroom! The class got to work and wrote to the Funnybones to let them know they had found him. On Thursday, the Funnybones left a message to say they were going to collect him – so we just HAD to throw him a spooky send off party! We danced, played games, sang, ate delicious treats and had a really great time on our last day. So long, Boney, we will miss you!
Click here to see our little dancers in action: CLICK HERE
E-Safety
We have been learning about being safe when using the internet this week. We heard the story of Smartie the penguin and talked about what he should do if a pop up came on screen that he didn't recognise and if a person was being unkind to one of his friends online. We learned mummy penguin's song and added some actions to help us remember to 'TELL someone!' Some children created their own e-safety leaflets independently in our busy learning time!
Art and Design Skills – Printing
In Art we are building up our skills in different areas of art. Today, we did some fabulous printing using acrylic paint and leaves. Children knew they had to paint onto the raised side of each leaf using various Autumn colours, printing carefully onto the tree template with a good amount of pressure. Other creative tasks available in class were observational drawing of pumpkins, autumn mindfulness colouring and 'design your own pumpkin' activity. We've had lots of Autumn fun!
Funnybones
This week we began reading the story Funnybones by Janet and Allan Ahlberg. The children simply couldn't believe it when a letter arrived in class, addressed to them! It was from the Funnybones skeletons, telling us that the skeleton frog had escaped the Funnybones Zoo and was last spotted in Stalybridge! They needed our help to find it by making 'Lost' posters – which we did, and have placed them around the school. Please keep a look out for the frog – we really hope it will turn up next week so that we can send it back to the zoo and have a little celebration!
All About Shape!
This week, we have been learning about 2D shape in maths. We have made shape pictures and have been thinking about how we know a shape is a circle, square, triangle or rectangle as well as sorting them into groups according to their shape, colour and number of sides or corners! We also created some more digital art in Computing this week using shapes to try and create pictures in the style of artist Wassily Kandinsky!
Maths
This week in maths we have been learning about fractions: finding half of a shape and half of an amount of objects. On Friday, the children were introduced to quarters of shapes and we consolidated this week's learning by turning our classroom into a giant pizza parlour! Children were tasked to design their very own pizzas before using a ruler and pencil to divide their work in half, and then into quarters, before cutting it up. Our maths area was transformed into a pizza takeaway and children enjoyed putting their skills into action, using lots of super maths language. Well done Year 1!
Geography
In Geography, we have been learning about where we live. This week we learned the names of the four countries of the UK and found out some information about each one. We read about the physical and human features together and then created posters in groups. Some children told me about relatives who live in, or are from, other countries of the UK and some children could tell me the names of towns and cities in each country – amazing!
Creating digital art work!
We have been learning how to log on to our school laptops and improving our mouse skills in Computing. This week we used 'Sketchpad' to create some digital artwork. We learned how to create a simple background and then stamp clipart over it to create a repetitive pattern. We had to choose, click, drag and resize the clipart to make our patterns!
Noah's Ark
This week in RE we have reflected on the story of Noah and children listened and joined in beautifully with the story. Mrs. Kirkpatrick told the story using props with children making excellent rain sounds and actions for different parts of the story. We wrote about the rainbow in our books – that it was God's promise to never send a flood again. During continuous provision, some children used the story props from the lesson to retell the story and also used our construction materials to build a huge ramp for the animals to get onto the ark! This is fantastic Year 1 – well done!
Five Senses Performance Poetry
Today our English lesson was to learn and recite a rhyming poem all about our senses. This links to our current science topic and children were so excited to create their own actions to the poem. We think they did a super job!
Click the video link below to see our fantastic Year 1 children in action!
Our neighbours around the world
Today we looked at our beautiful neighbours all over the world and spent time reflecting on images of children from different countries. Children heard Psalm 18:1-5 and we made a beautiful piece of collaborative art to celebrate our neighbours from other countries.
You Choose – Amazing adjectives
The children have been looking at the amazing pictures in the book You Choose by Nick Sharratt. We have spoken in full sentences about the pictures and tried to use adjectives to make our sentences even more interesting. One child said "I would go to the sandy desert island because it is beautiful" – WOW! Then, children were challenged to label our pictures from the book independently, which they enjoyed. Next week we will be using our adjective work to help us to write our very own stories.
Super Duper Us!
We have loved reading the book Super Duper You by Sophy Henn this week. Mrs Kirkpatrick helped us all become superheroes and we told her why we were super-duper! We also wrote sentences about why we are super-duper and wrote a letter to the author of the story with Mrs Cooke! In continuous provision, the children have been writing lists of the things that make them special, designing their own front cover of Super Duper You and making shape superheroes!
Exploring the Senses in Science
We had a fun afternoon exploring the senses of hearing, seeing, touching, smelling and tasting with a carousel of activities. We tasted some sweet and sour tastes, smelled some sweet, minty and spicy smells, listened to and made different sounds, felt soft, rough and furry materials and looked at some optical illusions. We also tried to recreate a human skeleton with cotton buds, naming the body parts that we could see.
Autumn Treasures
Thank you to all the children who collected a bag of Autumn treasures. We have started our week by exploring these on the tuff tray and making some animals that we might see in our local area out of play dough!
RE/Prayer and Liturgy
We had a Creation-themed Prayer and Liturgy today. We sang 'If I were a Butterfly' and children then listened to the story of Creation from the book of Genesis. We talked about what God created on each day and the children were then challenged to help Mrs. Kirkpatrick to create a beautiful world of their own. The children thought so carefully about what to put in it and took turns to choose items to complete the beautiful world. They then went on to complete their very own versions in their RE books. Well done Year 1!
Science
We had fun in Science singing action rhymes and playing games to help us to learn the parts of the body and the five senses. We sang: Heads, shoulders, knees and toes and the Hokey Cokey. We played: 'I Spy' (seeing) and 'Who's that knocking?' (hearing). We talked about how our bodies felt after doing lots of movement – warm, hearts beating faster, heavier breathing and sweatier!
A fun 'mathternoon'.
Year 1 showed off their super number skills on Friday by exploring lots of different counting and number recognition activities. Children could explore each challenge area independently and had different tasks to complete at different ability levels. Well done Year 1!

First Week
What a super first week we had in Year 1! We were very busy exploring our new classroom and finding out all about our new activities, resources and areas of provision! We also got to spend time cuddling our class pet, Dave the sloth, during our circle time where we talked all about the fun we had during the summer holidays.
Every single one of our fabulous "Team Year 1" were superstars! We are going to have the best year.