Teacher – Mrs Barber
Teaching assistant – Miss Walker
Welcome to our Year 4 class page. Here you will find updates of what we have been learning about in class and links to help with homework.
Along with their spellings, the children will be tested at the end of each week on their times tables.
Maths and English homework is given out every Friday to be returned to school completed by Monday morning.
Your child needs to being in their reading book and reading record every day. Books can be changed daily.
PE takes place on Thursdays and Dance takes place on a Friday afternoon. Both indoor and outdoor PE kits are to be kept in school for the half term.
Our Guided Reading text is History Hackers: Victorian Venture. We are also reading for pleasure our class novel, The Accidental Prime Minister by Tom McLaughlin.
Year 4 Prayers
Please find a copy of the prayers that we use in school. You can also use this at home. Year 4 Prayer Booklet
Knowledge Organisers
Please note we are unable to display some knowledge organisers due to copyright. If you would like access to missing knowledge organisers for art, D&T or computing, please contact school and we'll be happy to provide these.
Class Work
Hatching Chicks
This afternoon we spent time holding and stroking chicks that had been hatched at our school.
Easter Celebrations at Holy Trinity church
Sponsored Walk
We took part in a sponsored walk in Cheethams Park to raise money for Cafod and Mary's Meals.
Class Assembly
Here are a few photos from our class assembly. It was based on our history topic The Anglo Saxons. It was full of information that we have learnt during our studies about how they came to be in England.
Science – Digestive System
This week in science we did a practical to see how food gets from the start of the digestive system to the end.
Science – Memory Game
In science today we played a memory game. We looked at a part of the digestive system and had to draw it from memory back at our table, each person had a different part of the system to draw.
Anglo Saxons
Our homework for half term was to create and present research that they have found on the Anglo Saxons ready for our topic this half term. Here are some models that have been made.
Art and Geography
We had a cross curriculum Art and Geography lesson where we drew and label the Water Cycle and then used water colours to colour it in.
World Book Day
On World Book Day we enjoyed a live lesson presented by News Round where we created our own story plan as well as well as redesigning the front cover of our favourite book. We also enjoyed a cosy story.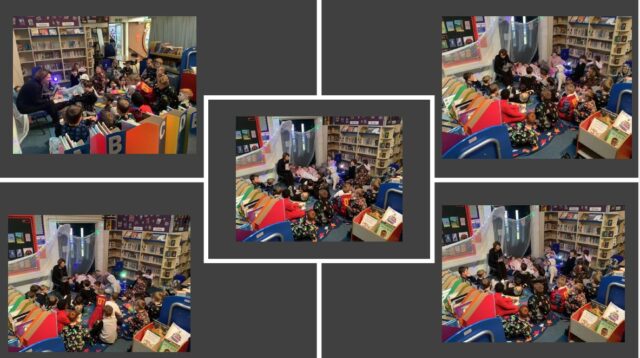 Art
We had an art lesson based on the artist Cezanne. Cézanne is said to have formed the bridge between late 19th-century Impressionism and the early 20th century's new line of artistic enquiry, Cubism.
Prayer and Liturgy
We had a class Pray and Liturgy focused on Forgiveness.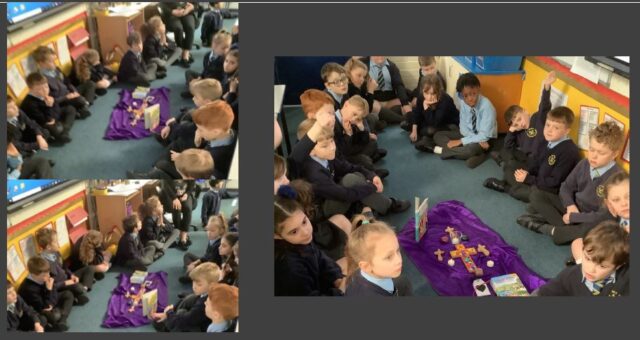 Trip Cheethams Art Gallery
First Reconciliation
How teeth work
Christmas at St. Peter's
Design and Technology
We made slingshot cars on our D&T day.
Dance
Our dance was based on the plot of Guy Fawkes and his plot of blowing up parliament.
Art
Here is a collage of pictures from our art day.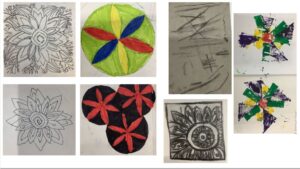 Science
We looked at solids, liquids and gases.
Blood Experiment – We looked at different materials and how well they absorb liquids.
Celebrating our differences
Geography
We looked at different careers and matched people's qualifications to the job.
English
As a group we put ideas together to persuade Mrs Ryan to let us get a pet for the classroom!
We enjoyed a performance from Young Shakespeare.