Welcome to our Nursery
Nursery
Teacher – Mrs Walker
Teaching Assistant – Mrs Evans
Welcome to our Nursery
Mrs Walker (Nursery Teacher), Mrs Evans (Teaching Assistant) would like to welcome you all to our Nursery unit.
Over the next few weeks, the children will be settling into their new nursery day. They will be exploring our classroom and outdoor learning area, whilst making new friends. We will be working together through the Early Years Curriculum to learn new skills and share new experiences. You can access this journey via Tapestry, our parental learning link resource.
Here is some information that may be helpful to you, as you begin your journey at St Peter's Nursery:
During the year the children take part in lots of school activities such as Friday assemblies, masses, Learning Links Day with Reception Class, productions and prayer shares. For some of these activities we welcome parents to join us. We will let you know all about them nearer the time.
Homework- In Nursery we like to begin the routine of homework. Your child will be given a piece of homework each week. It will be sent out on a Friday to be returned on a Monday. The homework is a consolidation of what we have been learning that week in Nursery. It will be a fun activity to enjoy with your child. It gives your child the opportunity to share their new learning and skills.
Library- We will be starting a library book share, where the children will choose a library book to share at home.
Reading-we will begin to introduce reading books after February half term. We begin by sending out books without words. These books are wonderful for story comprehension, understanding, making up stories and prediction. This will then link into their spoken language development for vocabulary and sentence structure. We hear the children read once a week and then they take they book home. We encourage all parents to share the book with their child and then make a comment in the reading record.
Welly walks – We are hoping that our regular walks in the community will soon begin – watch this space, or check the newsletter for more details!
If you have any worries, concerns or super news to share, please don't hesitate to come and see us.
Thank you for your continued support,
Mrs Walker and Mrs Evans
A copy of the Early Years rationale can be found on the website. This will give you information on the curriculum and ethos of our nursery. However, please feel free to speak with us after a Nursery session at any time, should you have questions, or should you wish to discuss your child's learning with us.
Cross-Curricular Parent Planners
RE: Nursery Knowledge Organisers
Nursery snack fund
This is payable at the beginning of the week. We ask for a weekly contribution of £2.50 per week to cover the costs of snacks, along with an additional voluntary contribution of £1.00 to pay for visitors who offer chargeable curriculum enhancements.
Please find below links to some of the exciting things that we do.
Teamwork
In nursery we have been working together in our construction area to plan and build our designs.
Hedgehog Maths
In nursery we have been reading the story Percy the Park Keeper – After the Storm.
We linked this to our maths, and we had to draw the correct amount of spikes on the hedgehog to match the spots on the dice. We had lots of fun.
Diva pots for Diwali
This week we have been learning about a different religion -Hinduism. We have made Diva pots out of playdough and added jewels.
We also created some super Mendhi patterns.
Pumpkin Faces
The children chose shapes to create their pumpkin faces.
We think they have done a great job!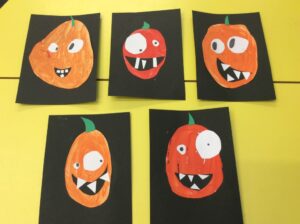 Mark Making
In nursery we have been making marks, drawing lines and circles in the finger paints. It was lots of fun.
Oliver's Vegetables
Linked to the story Oliver's Vegetables, We used the magnifying glasses to identify and look closely at the vegetables. We used our senses to discuss their smell texture and shape. We then chose the paint colours to match the vegetables and printed them to make our pictures.
Our First Welly Walk
We have been on our first well walk to our school field. We looked for things in God's Wonderful World such as the sun, the clouds, the trees and the grass.
God's Wonderful World
This week we have been learning how to join our hands in prayer.
We have talked about all the wonderful things in God's world.
Smithills Farm
We had such fun on our trip to Smithills farm.
Welly Walk in Stalybridge
Planting Bulbs
The children have been caring for their environment by planting bulbs.
Space Week
During Space week, nursery designed their own rockets and used a bottle to propel it up into the air. They had lots of fun.
Maths
For our Cross Curricular planning for Maths and Art, we made number caterpillars linked to our topic New Life. We were learning about the Very Hungry Caterpillar.
Communication and Language
Attention and Listening using the parachute. The children could stop/go when asked. They could make waves that were fast or slow.
Early Years Music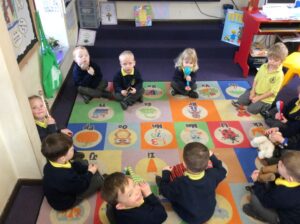 Treasure hunt finding the gingerbread man
Learning Spanish
In nursery we are lucky enough to have a child who speak Spanish. His mum has come into school to help us to learn Spanish.
It has been such fun, we can now say Hello, count to 3 and sing a Hello song.
Nursery ICT/Computing
Stay and Play
During this half term, nursery are having their Stay and Play sessions. This is a time when parents and carers can come into nursery for an hour to learn play alongside their child and other children in the class. It is a lovely time for both children and adults.
Ordering Number
We read the story 'Whatever Next' by Jill Murphy, where Baby Bear goes to the moon in a rocket. First, we chose our favourite part of the story and talked about it using the pictures, then we linked this to our maths learning and the children used rockets to match and order the numbers.
We then put some different materials into trays. We had Sand, Rock and Gloop. The children felt the materials and discussed what they thought the moon might be made of. It inspired lots of ideas and new vocabulary.
Other Faiths
The children celebrate different faiths and beliefs in Nursery. We looked at the Hindu faith and we made Rangoli patterns in creative arts and design.
Design and Technology
In Understanding of the World (linked to National Curriculum Design and Technology) we have been learning about Percy the Park Keeper and his story 'After the Storm' By Nick Butterworth. We have focussed on how to design a hedgehog. We followed instructions to make a chocolate hedgehog and decided if we wanted to use matchmaker spikes or chocolate button spikes.
We then had chance to work independently in the playdough and to make a playdough hedgehog using pasta.
After reading the story and finding out that the tree fell down after the storm, we decided to make a new tree for Percy's friends. Here are some photographs of our work.
Room on the Broom
We have been learning about the story 'Room on the Broom' By Julia Donaldson. We have made some spells just like in the story.
It was really good fun!
Here are some of the photographs.
Oliver's Vegetables
In Nursery we have been reading the story of 'Oliver's Vegetables' by Vivian French – illustrated by Alison Bartlett.
We used magnifying glasses to look at some vegetables in detail. We looked at cabbage, leeks and carrots. Mrs Walker and Mrs Evans then chopped up the vegetables to make soup for our snack. Lots of children enjoyed the soup, but there were also quite a few who did not like it.
Here are some photographs of our investigations.
This week in Nursery we have been experimenting with paints. We have been mark making with fingerpaints and mixing colours with shaving foam and paints. We have had a super time!
Here are some photographs of our new starters in nursery. They are all enjoying the learning activities in the indoor and outdoor areas.