Welcome to our Nursery
Nursery
Teacher – Mrs Walker
Teaching Assistant – Mrs Evans
Welcome to our Nursery
Mrs Walker (Nursery Teacher), Mrs Evans (TA) would like to welcome you all to our Nursery unit.
Over the next few weeks, the children will be settling into their new nursery day. They will be exploring our classroom and outdoor learning area, whilst making new friends. We will be working together through the Early Years Curriculum to learn new skills and share new experiences. You can access this journey via Tapestry, our parental learning link resource.
Here is some information that may be helpful to you, as you begin your journey at St Peter's Nursery:
During the year the children take part in lots of school activities such as Friday assemblies, masses, Learning Links Day with Reception Class, productions and prayer shares. For some of these activities we welcome parents to join us. We will let you know all about them nearer the time.
Homework- In Nursery we like to begin the routine of homework. Your child will be given a piece of homework each week. It will be sent out on a Friday to be returned on a Monday. The homework is a consolidation of what we have been learning that week in nursery. It will be a fun activity to enjoy with your child. It gives your child the opportunity to share their new learning and skills.
Library- We will be starting a library book share, where the children will choose a library book to share at home.
Reading-we will begin to introduce reading books after February half term. We begin by sending out books without words. These books are wonderful for story comprehension, understanding, making up stories and prediction. This will then link into their spoken language development for vocabulary and sentence structure. We hear the children read once a week and then they take they book home. We encourage all parents to share the book with their child and then make a comment in the reading record.
Welly walks – We are hoping that our regular walks in the community will soon begin – watch this space, or check the newsletter for more details!
If you have any worries, concerns or super news to share, please don't hesitate to come and see us.
Thank you for your continued support,
Mrs Walker and Mrs Evans
A copy of the Early Years rationale can be found on the website for more information on the curriculum and ethos of our nursery.
Cross-Curricular Parent Planners
RE: Nursery Knowledge Organisers
Nursery snack fund
This is payable at the beginning of the week. We ask for a weekly contribution of £2.50 per week to cover the costs of snacks, along with an additional voluntary contribution of £1.00 to pay for visitors who offer chargeable curriculum enhancements.
Please find below links to some of the exciting things that we do.
Preparation for Reception 2022
Please read this guide for useful tips on preparing your child for Reception in September 2022.
Science Nature
EYFS – Create simple representations of events, people and objects. Represent their own ideas, thoughts and feelings through design and technology, art, music, dance, role play and stories.
We discussed common garden birds and named them. We sorted seeds. We made a bird hide. We went bird watching. We made a bird collage. We recorded how many birds we saw on the field. We made bird feeders to encourage more birds. We had a bird watching homework to complete.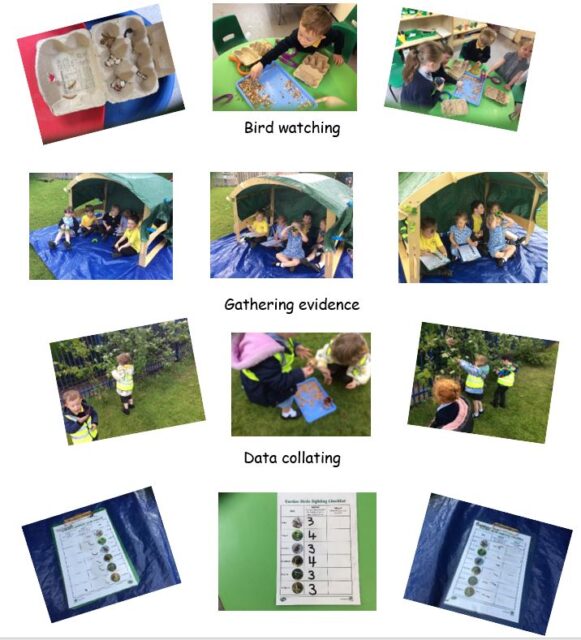 Our Plants
This half term we are looking at Growing and New Life. Each child has brought their own plant into nursery to care for and watch the changes it makes as it grows.
Here are some of the children watering their plants.
ACTIVE ANGELS
This half term in nursery we have been having our physical sessions of Active Angels with Sarah. Each week we learn about our body and how we can stay healthy. We learn to listen to our heart and also to take care of our bodies and we practise some yoga poses.
It is lots of fun.
The Very Hungry Caterpillar
In Nursery this half term, we have been looking at the life cycle of a caterpillar. We have some real caterpillar's in nursery and have been watching them grow and change.
We linked this to the story of The Very Hungry Caterpillar.
Spring 1 Jack and the Beanstalk
We made play dough beanstalks and we planted a bean. The children keep checking on how big it has grown.
"It's growing big" said one little boy.
Spring 1 Traditional Tales
This half term, we are looking at Traditional Tales. The children were really excited to try the Three Bears porridge after learning lots and lots about the story.
Daddy bear's porridge was cold, mummy bear's porridge was plain and baby bear's porridge was sweet. The children tasted the 3 different porridges and then had to decide which they liked the best.
Most children chose baby Bear's porridge!
Snow Experiment
We had a very snowy day, and the children were very excited. We decided to bring the snow into nursery to see what happens.
Each group added a bit of food colouring to the snow and we waited and waited and waited.
The children were excited to find that the snow melted. We discussed lots of reasons why it had melted. The sun, the rain, and last of all one little girl suggested it was the radiators that are making the room warm!
After our experiment we put on our coats, hats, gloves and scarves and we went out into the snow to play-we had to be very careful.
We had such a lot of fun, but it was extremely cold, so we didn't stay out long!!
Forest School Phonics
At Forest School this week we did our Phonics.
We each found a stick that we liked and then we went to the big logs to play. We banged our sticks to the beat while we sang Twinkle Twinkle Little Star. We played the sticks fast and slow and quiet and loud. We had such fun!!!
Nursery Prayers
Here is nursery saying their nursery prayers. We are beginning to remember them really well now.
We can also now set up the altar and talk about the different items such as:-
The Candle reminding us that Jesus is the light of the world.
The Bible reminding us of the stories of Jesus.
The Holding cross so we can say our prayers to Jesus.
Cinderella Ball
To finish our first half term, we had a Cinderella Ball. We made an invitation, we made crowns, wands and shields and danced. Then we all sat down to have our party food.
What a super time we had.
Outdoor Rhyme Time
The children are having a great time performing their favourite songs and rhymes.
Autumn display
To extend our language vocabulary, we looked at the autumn display and thought of lots of interesting words.
Oliver's Vegetable Soup Soup
In Afternoon Adventures we read the story Olivers Vegetables. We looked at the shape of the vegetables using the magnifying glasses and then chopped them up to make soup. We then tasted the soup to see if we liked it or disliked it. Two children came back for extras!
Birthday Balloons
This week we have introduced a new friend to nursery. It is Dilly Dog. It was a special day for Dilly on Monday as it was her 3rd birthday. A present arrived for her. It was a little furry friend. The children celebrated her birthday by having a party. They all joined in with party games and played with the balloons.
Baking
In nursery we have been thinking about our likes and dislikes. We decided to make some cookies with Mrs Evans. We had lots of fun making the cookies although they were a little hard when they were baked!!!
The Parachute
We had lots of fun with our parachute.
God's World
We went on an environmental walk around our school looking at God's world. We found lots of leaves, we made grass angels, a campfire and sang Kum By Ya.
Forest School
Nursery have been on an adventure to Forest School, We looked at all the creatures we could find in God's World. We found some bugs, spiders and worms.
We all worked together to collect some sticks and made a giants face.
When we had finished our bug hunt we sat down and enjoyed some hot chocolate together.
We had a super time.
Our First Library Book
This week in nursery we have been choosing our Library book. We take it home on a Tuesday and bring it back the following week after sharing it with our family.
It was really good fun.
One little girl told her mummy that we had a library in our nursery!