As Religious Education is central to our Catholic life at St. Peter's, we have many policies, which you are warmly invited to view below:
Topic map – long term planning from our RE scheme 'The Way, The Truth and The Life'
Pentecost
We marked this with a lovely gathering which Miss Cavanagh, Miss O'Brien
and our Year 1 children prepared. Our Pupil Leadership Team also shared a beautiful liturgical movement. Our friends from Trinity School joined for this occasion.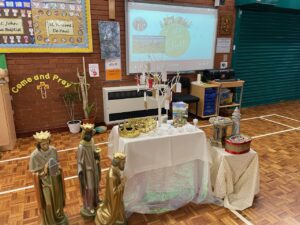 Our beautiful prayer focus for the Epiphany. Staff and children wrote about the gifts they promised to bring to the children of St. Peter's this year, just like the three wise men brought gifts to Jesus.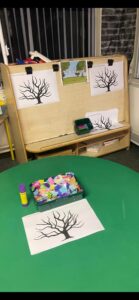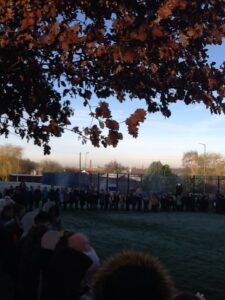 During times of the year, children at St Peter's learn about other world faiths. We gathered together in prayer on a cold, frosty February morning to learn about the Jewish festival of Tu B'Shevat (the Jewish New Year for Trees) and planted a pear tree to mark this occasion.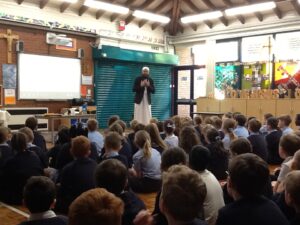 Imran Kotwal, from Muslim Learner Services, visited school during Ramadan to talk our Key Stage 2 children about being a Muslim and following the five pillars of Islam. He then visited our Infant children in their classes to show artefacts and tell stories linked to Islam.