Teacher – Mrs Sibson
TA – Mrs Godsall
Welcome to Year 5
Year 5 is an exciting year at St Peter's. This year the children take on additional responsibilities as play leaders supporting our younger infant children at lunchtime. We enjoy a great residential at Robinwood building our relationships and pushing ourselves out of our comfort zone in amazing challenges. We take the next step in our academic work developing our knowledge and understanding across a wide range of subjects in exciting ways and making links through all that we do.
Knowledge Organisers
Our 'Draw with Rob' self portraits.
Thank you for sending in your self portraits. You can still send in your drawings to add to our gallery.
*Scroll further down to see more photographs of your fabulous home learning*
Home Learning- 20th July 2020
Home Learning- 13th July 2020
Home Learning- 6th July 2020
Hope you enjoy this week's home learning. There will be a whole school 24 hour TT Rockstars battle Monday 11am to Tuesday 11am. Great to see Year 5 getting involved with the battles. Leila and Jonah were the top players last week.
Home Learning- 29th June 2020
Well done to the boys who beat the girls in last week's TT Rockstars battle. Alex B, Jonah and Edward- super contributions. Well done to Leila- top girl this week. Look out for some whole school battles this week. Remember you can also use your logins for Numbots too.
Alex J has recommended a great site for computing Idea. There are lots of free courses and challenges.
Home Learning- 22nd June 2020
Well done to those of you who took part in our first Tameside Catholic Schools TT Rockstars competition. Great scores from Jonah, Leila and Edward. I've set up a Year 5 Girls v Boys battle for this week. Remember you can also play games on Numbots to develop other maths skills.
I've really enjoyed doing the Draw with Rob art tutorials Draw with Rob recently. Mrs Godsall and I love doing them with our class. I think you will enjoy the tutorials too.
Home Learning- 15th June 2020
Well done to the girls in the Year 5 TT Rockstars battle last week. Jonah and Leila were the top players. Well done Edward, Ethan, Emma and Isabelle too.
This week St Peter's are going to be playing other Tameside Catholic Schools in the 'June Jangle'. Certificates will be sent to the top players. Good luck!
*Update 9th June*
Today's announcement of the government scrapping plans for all primary school pupils to return before the summer will mean that, unfortunately, we will be unable to complete Year 5 as a class. I was always hoping that we would be able to finish off the academic year together.
I have really enjoyed teaching Year 5 this year. You have been a great class to work with and I am missing you all dearly. This half term I am teaching another class all week as we widen the opening up of school to other classes and provide places for the children of key workers. I will continue to provide home learning to you weekly and you can contact me either via the school office or by email year5@st-peters.tameside.sch.uk if you have any questions/ queries. Send me photographs of what you are up to and I can share them on our class page. It always makes my day when I read your updates!
Mrs Barber is looking forward to teaching you in Year 6. So make sure you are keeping up with the home learning- you have done so well so far. We will provide the best support of your learning upon your return to school. For the meantime, I am still here as your Year 5 teacher if you need anything.
Take care,
Mrs Sibson
Home Learning- 8th June
Hope you have enjoyed the half term break. Here is the home learning for this week. This Joyful June calendar has daily actions for June 2020 to help us look for what's good even in difficult times.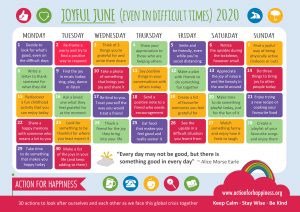 Home Learning- Whit Half Term
I hope you enjoy your half term break. Thanks for all of your messages and photos of your home learning this half term. You can still continue TT Rockstars/ Numbots over the holidays.
Here are some fun, non-screen activities you may wish to try out over the next couple of weeks.
Our History topic for the final half term is Vikings. If you would like a project to do in the holidays, take a look at some of the Viking themed craft ideas here Viking Craft Projects
Home Learning- 18th May
Well done to the girls in last week's TT Rockstars battle. Last week's top players for the girls were Leila, Emma and Aoife. The top players for the boys were Jonah, Sam and Jack. Another battle has been set up for next week.
Scroll down the page to see your photos and the fabulous work you have been doing at home. I love seeing what you have been up to.
Parents- sign up to Oxford Owl- Free ebooks to gain access a mixture of fiction and non-fiction reading books to read from home. Some of the titles are on our own school reading scheme.
Take a look at my video of an explanation of this week's math's work on Translation of Shapes
An explanation of this week's geography work Using Digimap for schools – measurements
I have enjoyed having a go at the illustrations with Draw with Rob during this time. On Thursday 21st May , you can take part in world record attempt at the world's largest art lesson. Have a look at the website to register.
Home Learning- 11th May
I hope you enjoy this week's home learning. Great to see lots of you getting involved with the TT Rockstars battles. Year 5 beat both Year 2 and Year 4 last week. Well done! Our top 3 players overall this week are Emma, Jonah and Maisie.
I would love to see any photos you have of your learning from last week, especially if you took part in any VE Day celebrations at home. I can include them on this class page.
Take a look at my video for an explanation of our Maths work this week Rounding Decimals
In English, we are looking at persuasive writing. Sorry my first English video did not save on the upload. Here is the video for Wed/Thurs work Advert scripts
Have a good week!
Home Learning- 4th May
Friday 8 May is the 75th anniversary of Victory over Europe, when the nation will join together to commemorate the service and sacrifice of the WWII generation then and now. Many of the activities I have set this week are around this theme. I hope you enjoy the activities. Maybe you'll have your own way of commemorating this day at home.
Maisie has found this useful website for her VE day work this week Tameside 75th anniversary VE Day
You can also take a look at VE Day- BBC Teach for a short film about VE Day and the events that led to the end of the war.
Please scroll further down this class page to see your home learning photographs and work you have sent in.
Would you like to try something new for your next read? Take a look at Branching Out: Reading for Pleasure. There are some great suggestions of alternative books to some of our favourite authors including David Walliams, Michael Morpurgo and JK Rowling.
Home Learning – 27th April
Home Learning – 22nd April
Home Learning
RE
Please find some links below to help you guide your child along their faith journey during school closure.
Holy Week Home Learning
Music
Please use the following document to help you access music lessons set by Tameside Music Service
Home Learning – Keeping in touch photos and work
Ethan has made some fantastic Viking crafts as part of our History topic this half term.
Take a look at Edward's marble run. I love the slow motion video of it to see the detail.
Edward's marble run – slow motion
Edward has made a shield as part of the Viking topic. He has also been drawing characters as part of the Puffin Books Festival of Dreams.
Leila has sent in a little video of her Design and Technology project of making a marble run.
Maisie has also made a fantastic marble run at home. Maisie marble run
Edward has sent in some photos of his history, art and RE work. Great to see Edward continuing with his running- fab views.
Alex has got stuck into the work already this week looking at the translation of shapes in maths and researching old age in science.
Dominic has been enjoying the home learning with his mum this week. Lovely to hear about your reminiscing about your Holy Communion whilst looking at the RE work on the Rosary. Dominic has also been baking cookies for the NHS where his mum works. Great to see Dominic setting up football challenges for his team mates.
As part of her English work, Maisie has created a super advert persuading people to buy rainbow sweets with money going to the NHS. I would definitely buy a packet Maisie!
Emily and Isabelle have sent in a few videos singing their favourite hymns whilst doing their home learning! Here is one of them. Lovely to see joy and praise during this time.
Isaac has sent in a lovely picture of some of this week's tasks. He's really enjoyed his learning so far this week and is looking forward to reading about Alan Turing. He has a message for you too –
'Hello Mrs Sibson and Mrs Godsall, hope you are both OK. I am keeping up with my spellings and word of the day. This week I have 20 words to learn as we missed them last week, but I am doing really well with them and I have got 10/10 each week. I miss being in school and can't wait to see you and my friends again. Hope to see you very soon, stay safe from Isaac'
Email from Maisie's mum- On VE Day , Maisie did some lovely baking . She made a Victoria sponge cake and scones – they tasted delicious. We took a slice of cake to nana, who we haven't seen for several weeks. We left the cake tin in her garden and rang her . We also printed off some flags and coloured them in . We then displayed then in our windows. In the afternoon, we sat outside talking to our neighbours across the road and had afternoon tea in the sunshine.
Isaac- Well done Isaac with your super home learning. Great to see Isaac getting stuck in with lots of different activities, including some lovely designs for a VE Day medal.
Leila has been in touch describing VE Day with her family.
"We watched Winston Churchill's announcement and then listened to music of the time whilst making bunting and flags. When we had decorated the house with the bunting, we had a picnic outside in the garden."
Dominic produced a slide show when he was in school about thanking key workers. Chloe also produced a poster to send to one of our local supermarkets, Tesco, to thank the workers there.
Great to hear from Ethan who has produced some lovely maths, English and French work. Some super gardening skills too!
Take a look at Edward's Powerpoint on Norway. Some great facts about Norway- though I'm not entirely sure it was necessary for him to include the slides about the Manchester United manager knowing full well his teacher is a Manchester City fan!
Edward's Aunty Vicky lives and works in the north of the country. She took the time out from her job as a trucker to answer questions about life in Norway. Check out his interview with her to find out more about the country.
Edward's interview with Aunty Vicky
Leila has shared some lovely photos what she has been up to at home with her family. She created a restaurant in the garden with her sister. She has also been busy planting in the garden. She made chilli for tea and has been on many bike rides. Great to see Leila also completing the TCSSA virtual netball competition too.
As part of her geography home learning, Leila has interviewed a lady from Scandinavia for 45 minutes and has created a PowerPoint about this. Well done Leila!
Great to hear from Maisie sharing her work. She has done some super English work using the Pobble activities and has continued looking at our Word of the Day. Maisie has made a great start to our Exploring Scandinavia topic, researching Sweden- a country she has been lucky to visit herself. Take a look at her PowerPoint.
Charlotte has been busy completing her home learning work and creating some lovely arts and crafts work too.
Edward has been enjoying doing plenty of TT Rockstars, the maths homework and some of the writing activities items on Pobble. Edward's sister Orla has also enjoyed drawing a Tudor portrait with him. He has also been enjoying the daily challenges from his East Cheshire Harriers, Joe Wicks workouts and a few runs out in the week.
Robinwood Residential.
We have been able to reschedule the Robinwood dates for Wednesday 2nd September to Friday 4th September 2020 . Please note that these are the first days back following the summer holiday – what a start to Year 6 it will be!
We will plan a parents' meeting before the end of the summer term in one form or another depending on when the children are able to return to school and any restrictions that might still be in place when they do.
Year 5's parent residential information forms:
Robinwood letter – May 2019 re 2020
Costing letter for trip April 2020
World Book Day
Year 5 have enjoyed sharing their own books at home and have discussed the importance of sharing stories. We have shared stories with Year 1 and taken part in a whole school 'comfy read'. In class, we have also written our own stories and designed a National Book Token.
Science
Our topic for Science is 'Music Festival Materials'. We have planned and carried out an investigation into looking at the suitability of different materials to be used as a food preparation area.
Lantern Making Workshop
Year 5 took part in a lantern making workshop at Astley Cheetham Art Gallery in Stalybridge. Some of our children took part in Tameside Winter Carnival which was held in November.
Buddy Reading
Year 5 enjoyed sharing stories and picture books with Year 1
Prayer Share
Year 5 invited parents and grandparents to take part in their recent prayer share.
Greeks Got Talent
We had so much fun performing our assembly on our history topic (the Ancient Greeks) to the rest of the school.
Jodrell Bank
As part of our Earth and Space topic in science, we visited Jodrell Bank and took part in different workshops.