Nursery
Please find below links to some of the exciting things that we do.
Nursery Information for parents 2016
Nursery snack fund
This is payable at the beginning of the week. We ask for a weekly contribution of £2.50 per week to cover the costs of snacks, along with an additional voluntary contribution of £1.00 to pay for visitors who offer chargeable curriculum enhancements.
For Summer 2 from 12th June until 21st July 2017 Nursery snack fund will be £21.00
Thank you for your continued support.
Our Class Beanstalk – March 2017
We did some shared writing, labelling parts of a plant.
We were amazed to watch the beans we planted as they grew and changed!
Our class beanstalk was made by all of us!
Traditional Tales – January 2017
This half term, we are going to have a lovely time reading some traditional tales:
The Gingerbread Man (we will make some gingerbread to take home)
The Little Red Hen (we will bake some bread)
Cinderella (we will go on a hunt for Cinderella in Cheetham's Park)
The Enormous Turnip (we will make some vegetable soup)
Jack and the Beanstalk (we will plant some beans).
These girls have made a lovely start to their learning by reading books of the tales, in the book corner!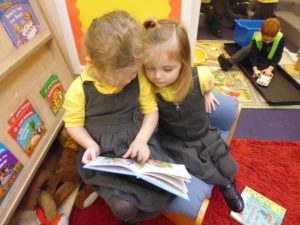 We will also be going for a walk in the park with the I-Pads, to photograph some signs of Winter. Look at the great Winter snowmen our children have painted!
We are continuing our number learning. Some of the children ordered this number track beyond 20 when playing outdoors!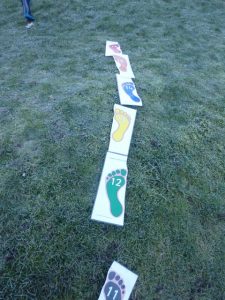 Autumn Festivals of Light!
Look at our Rangoli patterns, which we made with Autumn treasures.
We had a lovely time, reading a recipe to make sweets for Diwali!
Mrs. Green really enjoyed setting off fireworks in the playground! We all sat on the benches, far away from her, so that we stayed safe.
We used the ribbon streamers and the claves to wish each other, "Happy Diwali!" We practised making a 'curly c' movement with the streamers, and beat out the rhythm of the words with the claves.