Mini Vinnies
Mini Vinnies
We gather together every second Tuesday and share a liturgy based on the gospel from the previous Sunday.  At our meetings we focus on prayer and fundraising.
Our latest fund raising event was a Cake Sale for Cancer Research.  We raised £41.90.  Thank you for your kind donations of cakes and buns……
Last year Mini Vinnies helped to raise money for: The Carpenters Arms (EYFS Harvest Assembly), Cancer Research (Sale of Crocus), Women's Project Stalybridge (Sponsored Jog) -items of clothing  and toiletries donated
Total raised throughout the year £291.28.  Fantastic, well done to everyone who helped and donated.
We are currently fundraising for 'The Mustard Tree' this organisation is based in Manchester city centre which works with those affected by homelessness and other issues which place them on the margins of our society.  If you would like more information on the organisation please click on the website link below.
'Share the Journey'
The Mini Vinnies group did a sponsored walk in Cheetham's Park at lunchtime. The money we raised will be sent to CAFOD.
As we walked, we thought about the many refugees who are also making a journey at this time.
We reflected on the differences between our situation and theirs.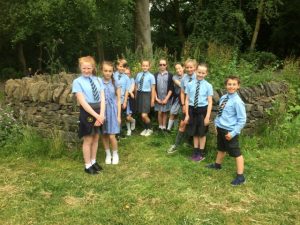 We held a bake sale for the juniors on Wednesday 19th November.  Thank you to everybody for the wonderful cakes that were donated, your efforts were greatly appreciated.  You raised £31.02 .  We are also collecting food and clothing for the charity.  The charity are particularly in need on men's clothing at the moment.
Please see below a thank you on behalf of the Mustard Tree Organisation
On behalf of Mustard Tree staff, clients and volunteers I would like to thank you for your recent support and generosity in the donation of £31.02.
This practical support is so encouraging and really does give us a lift as we continue to seek to assist those whose needs are greatest. Regrettably the numbers of people needing Mustard Tree's service grew throughout 2013 and as we anticipated this growth continued through 2014. Our continued hope is that others like yourselves will join us in being part of the solution in bringing hope and sustainability to many individuals and families.
Thank you again.
Very best wishes,
Adrian Nottingham
CEO Mustard Tree