Tameside Toy Appeal 2020
Our Mini Vinnies collected in gifts and toys for the Tameside Toy Appeal, organised by the charity Action Together. We took the donations to the local drop off at Barty's Food Bank on Acres Lane in Stalybridge.
Royal British Legion
Every year we support the Royal British Legion. Again this year it was very well supported, on sale were pin badges, rulers, pencils, rubbers and sharpeners and the traditional paper poppies. Well done to children in each bubble who worked hard in their break times selling the poppies for this worthy charity. We raised a wonderful amount £248.33 for this very worth charity.
Powerpoint: Remembrance gather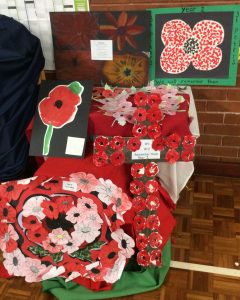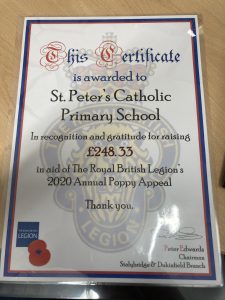 Thank you for your generosity and continued support.
Big Yellow Friday – 12th March 2021
This year all the children came to school wearing something yellow with their uniform, for a small donation. The overall amount raised was £209.34 well done everyone! A cheque is on its way to the Children's Liver Disease Foundation.
Thank you to everyone who helped or contributed to this worthy cause.
CAFOD
Throughout the year school and nursery raises money in various ways for CAFOD. more information on fund raising totals to follow shortly.
Cafod Harvest Fast Day was on 9th October 2020 the children kindly donated a total of £110.21 to this very worthy charity. Click on the website link below to see how you fundraising continues to help those in need.
Lenten Fundraising
Throughout Lent each class helped to raise a total of £1300.74 . Children enjoyed the many activities, sponsored walks, Sponsored Egg and Spoon race, Sponsored Keep Fit, weekly toast and bread sticks too. Thanks to parents and children for all their help with the fundraising. The money raised was shared between CAFOD, Mary's Meals and our local hospice Willow Wood.
If you would like to find out more information on the organisations that we have supported click on the relevant links below.
NSPCC
As part of their Lenten fundraising 2020, years 1 and 2 took part in a sponsored Buddy work out to raise money on behalf of the NSPCC. The amount raised was £612.60 which has been collected by the NSPCC. Thank you to all who took part.
Mary's Meals
The school continues to supports this very worthy charity. Due to the pandemic we have been unable to hold as many fundraising events. The Infant breadsticks and Junior toast donations from 2020 raised £127.81.
Please click on the website link below to find out more information.
Thank you for your continued support.
Willow Wood Hospice
Throughout the year school raises money for our local hospice. Due to the pandemic we have been unable to hold as many fundraising events. In December we held a Christmas Jumper Day on 17th December, the children donated money for this cause and raised £92.70. Well done!
Save the Children
We supported this charity through our Lenten fundraising. The money raised supported the Yemen Appeal. This year's door collections for the Christmas Productions 2017 was shared with Willow Wood and Save the Children. A cheque for £249.00 was donated to to the cause.
Thank you for your continued support.
Samaritans Purse
School created 27 boxes for this year's appeal. Well done everyone! Thank you for your kind donations for a very worthy cause. To find out more information about this worthy cause click on the link below:
Mission Together
Mission Together is the Catholic Church's official overseas charity for children.
Every year children take home a red Mission Box and collect any spare change. The total monies that school has raised over the last couple few years is 615.39. The money is working to provide healthcare to children abroad.
Mission Together not only ask for money but also prayers for those children around the world less fortunate than us.
Thank you for your generosity and continued support.
Francis House (Rainbow Family Trust)
School continues to support this wonderful charity. In December 2019 the infants and juniors performed 'A Present for Baby' and 'Papa Panov' money was collected at the door for the productions. The total door collection amounted to £463.67 . A big thank you to everybody for your kind donations on the door for this wonderful hospice.
Thank you for your continued support.
Children In Need
To celebrate Children In Need this year the whole school wore either something spotty or Pudsey related on Friday 13th November 2020. It was suggested a 50p voluntary donation was given by the pupils for this worthy cause, the total fundraising amount to £133.61. Well done everybody!
Third World Group
St. Peter's Third World Group has been part of the St. Peter's And St. Raphael's Parish for many years . One of the areas that they support is St. Peter's Gambia School. As a school we have always donated equipment, uniform and stationary.
Please click on the flyer for more information as to what is needed St. Peter's Gambia
Love of Lacey
Lacey Warburton, age 7, was a bright vibrant little girl, enjoying her summer holidays when she suddenly and inexplicably passed away. The trauma that her parents, brother and extended family and friends have experienced and are still experiencing is unimaginable.
The family are supported by each other and their friends which is a blessing.
Ray and Jodie have set up the charity 'Love of Lacey' to provide support to other families who find themselves in such dreadful circumstances. As Lacey was a pupil at St Peter's we are committed to the memory of Lacey but also we are supporting her charity in a variety of ways.
Registered Charity Number 1183876 Love of Lacey – registered charity
This year we have so far raised £370.74 to support Lacey's charity.
On Friday 19th July 2019 we had a whole school picnic, unfortunately it was raining so we had the picnic in school. Spirits were far from dampened, children and staff had a lovely time together in the school hall. After the picnic we held a butterfly release on the junior playground for the whole school to remember Lacey. The children were very excited. It took a short while for the butterflies to venture out of the box, but when they did it was at the pure delight of the children and Lacey's family and friends who came to celebrate the release too. Children and parents have been sending in money all week for the butterfly release, to raise money for Lacey's registered charity. Total donated £233.59.
Year 6 Leavers production 'The Lion King' was performed on Tuesday 16th July 2019. The show was fantastic and watched by many for the evening performance. The door collection amounted to £137.15.
Thank you for your continued support.