Teacher – Mrs Sibson
TA – Mrs McClure
Welcome to Year 6
Year 6 is a very important year, but we try to make it fun as well. Being the eldest children in the school means that we have a responsibility to set an excellent example to the rest of the school. We prepare for High School by taking on responsibilities around our school and looking after our younger peers. We are given roles as prefects, dinner monitors and buddies who work with Reception to help them learn. Our aim is to be the best that we can be, which we do by working hard, becoming more independent and making sure that we find enjoyment in all that we do. We are a dynamic class and we embrace new challenges; we set ourselves targets and we try our hardest to reach them. Our teaching assistant, Mrs McClure, is always here to help. Being creative in our learning means life is never dull.
At St Peter's, our goal is to create successful, confident and independent individuals who will develop into active and responsible citizens. By the end of Year 6, we the children will have developed significantly both academically and socially. During the spring term, the children will begin to prepare for the SATs which take place in May. The children will have a wide range of support during this time and will be given every opportunity to reach their full potential. If you have any questions about the coming terms, please get in contact and I will be more than happy to answer any questions that you might have.
Mrs Sibson and Mrs McClure
Here is a list of recommended reads for Year 6. Please ask- we may have a copy in our classroom or school library if you are interested in any of these texts. Book list for Year 6
Our Guided Reading text this half term is 'Kensuke's Kingdom' by Michael Morpurgo. We are also reading our class novel, 'The Way to Impossible Island' by Sophie Kirtley.
Knowledge Organisers
TT Rockstars
Great to see so many children in Year 6 playing TT Rockstars this half term. This week's battle Boys- 1871 Girls 1370. Well done boys!
Dance
This half term with Olivia our dance teacher, we have created a line dance for our assembly song 'Harvest Rock n Roll' which the whole school enjoyed. Linking to our rivers topic in geography, we have also created a piece to represent the movement and features of a river. We couldn't decide on a name for the dance- 'River Flow' or 'River Train'.
English and PSHE
We joined other schools around the UK in a Puffin Books virtual author session with Abigail Balfe who has autism. She talked about the challenges she faced growing up. Her book 'A Different Sort of Normal' tells her real life story. She told us about her autism; stories about ice cream and toilets and her love of cats!
Science
We have carried out an investigation into the best conditions for mould to grow. We have had some interesting results and have made our own conclusions about the best place to store bread.
We have also been learning about microorganisms and have collated what we have found out in this document.
Art
We have been developing our art and design skills this half term. We have enjoyed making Zentangle patterns and looking at the work of Edward Hopper, William Morris and Claude Monet.
Wear it Green Day
This Harvest we have been supporting CAFOD and joining other schools around the country by going green! World leaders are meeting in Glasgow this November for a crucial meeting about the climate crisis and the future of our planet and its people. As a school, we have been fundraising to support communities around the world who are protecting the planet.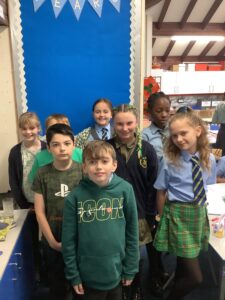 Religious Education
The class have been reflecting on what the Kingdom of God means to them and created this class Padlet. Click on the image to view our responses.
Geography- Rivers
This half term, in Geography, we are learning all about rivers. We were able to take a trip to Park Bridge to study the features of a river and some of the wildlife that live in them. It was a brilliant day and we all had a lot of fun!
Prayer and Liturgy
Some of the children have done a wonderful job of planning and delivering this week's Prayer and Liturgy. The theme was friendship and the importance of this as we begin our final year together at St Peter's.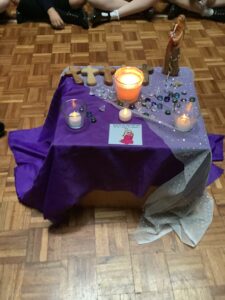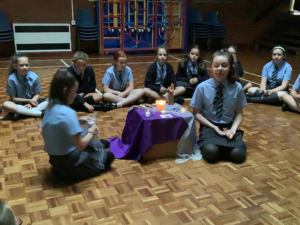 Creating computer games with Scratch
We have been working hard in our computing lessons creating computer games using Scratch. First we revised a range of concepts by creating our own versions of Frogger. We then used these concepts to create our own version of the classic game Space Invaders. We used loops, logical statements to test conditions, variables to save scores and programmed multiple sprites.
Our classroom