Year 6
Teacher – Mr Gould (Deputy Headteacher)
TA – Mrs Godsall
Welcome to Year 6
Year 6 is a very important year, but we try to make it fun as well. Being the eldest children in the school means that we have a responsibility to set an excellent example to the rest of the school. We prepare for High School by taking on responsibilities around our school and looking after our younger peers. We are given roles as prefects, dinner monitors and buddies who work with Reception to help them learn. Our aim is to be the best that we can be, which we do by working hard, becoming more independent and making sure that we find enjoyment in all that we do. We are a dynamic class and we embrace new challenges; we set ourselves targets and we try our hardest to reach them. Our teaching assistant, Mrs Godsall, is always here to help. Being creative in our learning means life is never dull.
At St Peter's our goal is to create successful, confident and independent individuals who will develop into active and responsible citizens. By the end of Year 6 we the children will have developed significantly both academically and socially. During the Spring Term, the children will begin to prepare for the SATs which take place in May. The children will have a wide range of support during this time and will be given every opportunity to reach their full potential. If you have any questions about the coming terms please feel free to come and speak to me after school, where I will be more than happy to answer any questions which you might have.
Mr Gould and Mrs Godsall
Class Information
Big Arts Week – June 2017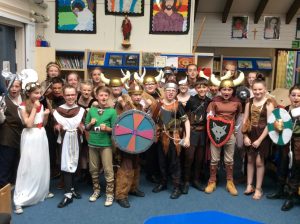 Class Events
On Wednesday 14th September we visited Llandudno. During our time there we visited the promenade and pier, took the tram up to the top of the Great Orme, had a nature walk which included searching for fossils and visited the copper mines where we learnt how to turn malachite into copper. A wonderful day was had all round and the weather was amazing.
Science Tracking Seasonal Changes – Thursday 3rd November 2016
We went to the park and had a fun scavenger hunt. We found lots of animals and plants which we hadn't seen before and were really interesting to see. We crossed bridges and had a look if we could see any insects on the trees and leaves. Written by Ashleigh.
Safe Squad
As part of our PSHE topic we visited Safe Squad where we learnt about a variety of different topics including: fire safety; CPR; anti-social behaviour and hate crimes; and keeping safe on the internet. All the workshops were really enjoyable and we all learnt alot.
Science – Ox's Heart
As part of our topic on the circulatory system we dissected an Ox's heart to help us learn about the different chambers and valves.
Science Trip to the Museum of Science and Industry
We recently visited the Museum of Science and Industry in Manchester. We travelled down by train which made an interesting change to travelling by coach. Our first experience at the museum was an interactive talk on why Manchester is such an important place for science. We had a really fun workshop on light and magic and were able to view a wide variety of exhibits including the Manchester Small-Scale Experimental Machine (nicknamed Baby). We had great fun and have used our experience to help us write recounts and discussion texts in English.