Teacher – Mr Gould
TA – Mrs Evans and Mrs McWiggan
Welcome to Year 4
Class Page. Here you will find updates of what we have been learning about in class and links to help with homework.
Mrs Cooke and Ralph
Baby Ralph is now 6 weeks old and he has grown so much already! We have been going out for lots of walks as a family and have been lucky to have had lots of sunny days where we have been able to meet up with our family and friends outdoors. We are really looking forward to the time when we can come and visit our St. Peter's family! We hope you are all ok and enjoying time with your families. Love from Mrs Cooke & Baby Ralph xx
Home Learning – 20th July
Home Learning – 13th July
Home Learning – 6th July
Home Learning – 29th June
Home Learning – 22nd June
Home Learning – 15th June
If your children have been enjoying the story of Anansi, please use the link below to the Unicorn Theatre's YouTube Channel for performances of some more Anansi stories. A big thank you to Mrs Swanick for pointing me in the direction of these brilliant videos.
https://www.youtube.com/user/UnicornTheatre?utm_source=Anansi_Guardian&utm_medium=Website&utm_campaign=Anansi_Guardian_Website
Home Learning – 8th June
Home Learning – 18th May
Home Learning – 11th May
Home Learning – 4th May
For some wonderful 10 minute writing challenges from lots of different authors follow the link below to Authorfy's daily fun tasks.
https://authorfy.com/10minutechallenges/
Home Learning – 27th April
Home Learning – 22nd April
Home Learning – Please find Mrs Cooke's links to home learning for children during school closure.
Year 4 Home Learning Area Activity Page 1-2 Only
Year 4 Home Learning Area and Perimeter Information Sheet
Year 4 Home Learning Book Review Template
Year 4 Home Learning Cover Sheet
Year 4 Home Learning Perimeter Activity Page 2-5 Only
Year 4 Spring-Themed Maths Home Learning Activity Booklet
Holy Week Home Learning
RE
Please find some links below to help you guide your child along their faith journey during school closure.
Music
Please use the following document to help you access music lessons set by Tameside Music Service
Year 4 Spring Cross Curricular Plan
Keeping in touch – photographs and work
Isobelle has sent in an absolutely brilliant ode to lockdown based on this week's work. It's wonderfully performed and I think we have a future poet laureate on our hands here. Amazing work, well done Isobelle!
Sam's been doing some more brilliant work this week. He's really enjoyed his maths and being a big fan of James and the Giant Peach he's loved this work too. He's made a fantastic model of the Millennium Falcon with Ben and his dad and he's even built an AT-AT walker out of Lego. Amazing achievements Sam and Nate and I want that Lego!
Sam has really enjoyed his work on symmetry and the Victorians. He's created a great symmetrical picture on the computer and even been keeping healthy by heading our on a bike ride. Great work Sam!
Freya has been working hard on her Scratch project and has really enjoyed working out what to correct. Amazing work Freya and great to see you!
Excellent work from Sam again. This week Sam has worked on his nature journal, book report and rain forest work in science. As well as that, he's produced a brilliant limerick
There once was a boy called Sam There once was a boy called Ben
Who liked chilli and curry and ham Who was learning to write with a pen
He did football and swimming His stories were sweet
And really liked winning But his work wasn't neat
And wanted a beard like a man! So Mrs Russell said "do it again!"
Sofia has enjoyed learning about the rain forest and has made this amazing poster of what she has learnt. Brilliant work Sofia!
I enjoyed doing the maths and the door knocker story. I have started doing a nature journal when I go out on walks and I have read a lot of books so I will start doing book reports next. I have been doing a lot of jigsaw puzzles and making things like the net of a cuboid and I turned mine into a dice.
Great work Sam and brilliant photos – Mr Gould
Knowledge Organisers
Shrove Tuesday
We celebrated Shrove Tuesday with Pancakes!
History – Sutton Hoo Mystery
Could we solve the mystery of the empty Anglo Saxon grave? Yes we could! We looked at the artefacts that were found by archaeologist Basil Brown in a mound at Sutton Hoo. By studying these, we found out that the person must have been rich, some form of leader or king, a Christian at one time and the coins gave us a clue about the date that the burial was made. We looked at some possible people these artefacts could have belonged to and came to the conclusion that this grave must have belonged to the superior Anglo Saxon king Raedwald! Great detectives and historians in the making!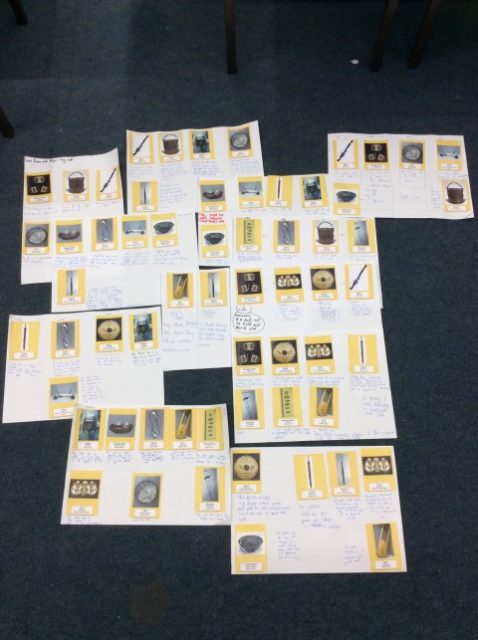 Evaporation and Condensation
We looked at evaporation and condensation in Science. We learned how the particles in a liquid gain more energy as they are heated and disperse, changing state from a liquid to a gas. We modelled this and investigated the effect of temperature on evaporation.
We then learned about the opposite process – condensation. We learned that gas can change state into liquid by being cooled down. We used different temperatures of water and a warm room to see if we could see condensation happening. We noticed condensation appeared on the outside of an icy water cup as the warm vapour in the air changed back into liquid, and a small bit formed on the inside of the warm water cup when the steam cooled against the cup.
Temperature Experiments
We have begun thinking about changing state in Science. We conducted experiments into temperature and thought about the temperatures that would cause a change of state. We measured temperature over time to observe these changes happening.
Geography
We looked at the different cities in Madagascar and found them on a map. We also looked at the natural resources and trade in Madagascar, studying the exports and imports.
Madagascar
We found out that our new Geography topic is Madagascar! Madagascar is an island and is one of the countries on the continent of Africa. We found out some interesting facts about Madagascar and then had to sort pictures and facts in our groups to compare Madagascar and the UK.
Our dear friend Lacey
We remembered our dear friend Lacey on her birthday and decorated her tree with butterflies in memory of her.
Design and Technology
We used our Design and Technology skills this Christmas week to create pop-up Christmas cards and gingerbread reindeer.
Solids, Liquids and Gases
We used our bodies to model how the atoms act in solids, liquids and gases!
Roman Absorption Experiment
We were tasked by the Romans to investigate which material would be the best for cleaning up 'blood' from the battlefield. We tested four different materials to see how absorbent each material was.
Roman Army Formations
We had fun practising the different Roman army formations including the 'tortoise' the 'square' and the 'pig's head'!
Only One You
For our well-being morning last week, we worked in our family groups. We heard the story 'Only One You', which celebrates friendship and differences. We then designed and created our own 'fish' pebbles.
Hinduism
To celebrate Diwali we created and coloured our own Rangoli patterns.
Anti-Bullying Week
As part of Anti-bullying week we came to school wearing odd socks to celebrate difference and uniqueness. We also took part in a Philosophy for Children lesson where we listened to the story 'Frog and the Stranger' and discussed questions we had about the events and the characters.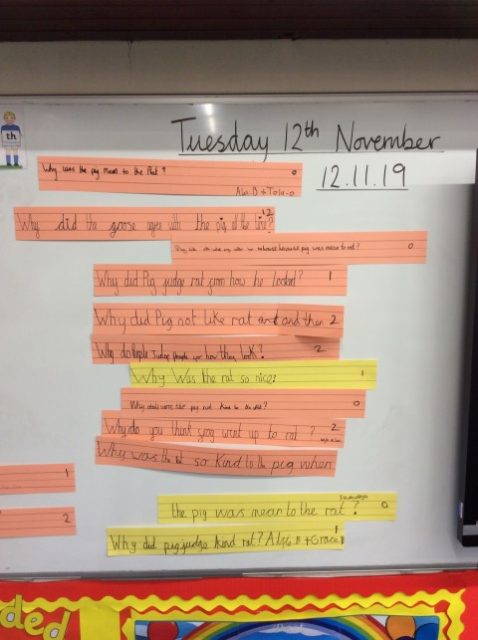 World Mental Health Day
For World Mental Health Day we took part in #HelloYellow for Young Minds. We all wore something yellow with our uniforms and completed activities thinking about what makes us happy. Year 4 also completed some mindful colouring, superhero 'happy' badges and created our own Superheroes that could help somebody feeling sad.
Earning a living
We have begun our 'Earning a Living' topic in Geography. We have been thinking about why people have jobs, what kinds of jobs people have and the kinds of jobs we would like to do when we grow up. For our lesson this week, we matched job titles to job descriptions to find out more about them. We then thought about the jobs that we would most and least like to do!
Geography
In Geography, we found out about industries in certain areas of the UK. We then used the laptops to create pages of information about these places and displayed them in class.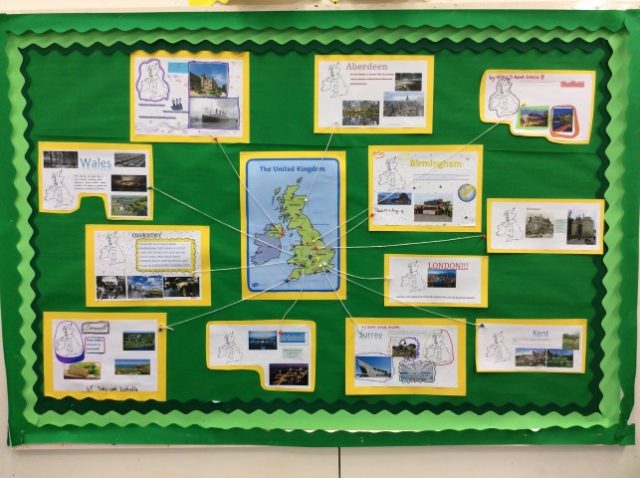 Macbeth Day
We loved watching Young Shakespeare's performance of Macbeth on Friday and have continued to complete some drama work about the play.
Space Day
We loved Space Day on 7th October! We researched planets, made up our own mnemonics, learned about Tim Peake's visit to the ISS, created art work to show what Earth would look like from the ISS and even tested our own balloon-powered rocket!
Science – Electricity
For the first lesson of our Science 'Electricity' topic, we were given a bulb, a bulb holder, a battery, a battery holder and two wires. We were challenged to get the bulb to light! Once we had completed a circuit using two wires, Mrs Cooke challenged us to get the bulb to light with only one wire! Some of us managed to complete this challenge too!
Geography – Earning a living
We have begun our 'Earning a Living' topic in Geography. We have been thinking about why people have jobs, what kinds of jobs people have and the kinds of jobs we would like to do when we grow up. For our lesson this week, we matched job titles to job descriptions to find out more about them. We then thought about the jobs that we would most and least like to do!
Collective Worship
Tour of Britain
We learned about the Tour of Britain that will be riding through Tameside this weekend. We designed cycling jerseys that the bikers could ride as they travel through Stalybridge!