Teacher – Mrs Sibson
Teaching assistant – Mrs Pollitt
Welcome to our Year 4 class page. Here you will find updates of what we have been learning about in class and links to help with homework.
Along with their spellings, the children will be tested at the end of each week on their times tables.
Maths and English homework is given out every Friday to be returned to school completed by Monday morning.
Your child needs to being in their reading book and reading record every day. Books can be changed daily.
PE takes place on Thursdays and Dance takes place on a Friday afternoon. Both indoor and outdoor PE kits are to be kept in school for the half term.
Our Guided Reading text is History Hackers: Victorian Venture. We are also reading for pleasure our class novel, The Accidental Prime Minister by Tom McLaughlin.
Knowledge Organisers
Active Angels Outdoor Wellbeing Sessions
This half term Year 4 are taking part in weekly outdoor wellbeing sessions with Sarah from Active Angels. The weather was kind to us this week and we enjoyed yoga, habitat making and relaxation.
PSHE- Zones of Self Regulation
We have been exploring how we can recognise our feelings and use tools and strategies to regulate them.
Religious Education
The eyes of the world are on us this year as Britain hosts world leaders for the United Nations' climate change talks – COP26. Year 4 have started to look at this campaign with CAFOD 'Eyes of the World'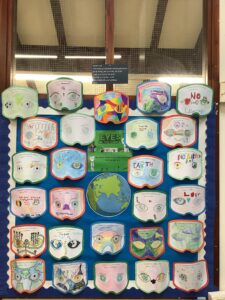 Art
As part of our Sculpture topic, we have been looking at creating in the style of sculptor Sokari Douglas Camp, a Nigerian artist.
Inspired by STOMP, the children created maracas using plastic bottles and decorated them with West African patterns.
Computing
Our topic in computing is 'Computational Thinking'. We have been looking at what decomposition means by looking at a Scratch game.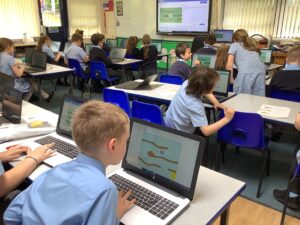 Canals and River Trust Virtual Visit
Helen, from the Canals and River Trust, gave a virtual workshop to the class about the role of canals in the Industrial Revolution. This is part of our History topic of 'Stalybridge in the Past'.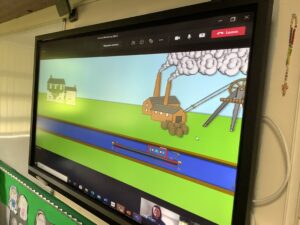 TT Rockstars
Year 4 having playing a tournament testing their Times Tables for the week. Nobody beat Mrs Sibson in the challenge game!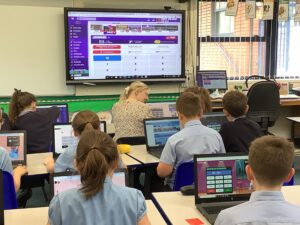 Virtual Visit to Stalybridge Library
James and Jennifer from Tameside Libraries gave Year 4 an interactive session about using the libraries around Tameside and accessing some online services. The children were really engaged and asked lots of questions!
Tameside Libraries are now welcoming back users Tameside Libraries
Here are some links from the session.
Science Day
As part of British Science Week, we spent the day looking at designing a calcium rich food to be marketed and sold in a farm shop. Our topic in Science this half term is digestion and teeth, so the children investigated the different processes involved with the digestive system using bananas, crackers, juices and tights!! We also looked at the digestive system of a cow by taking part in a national live lesson 'Vet School'.
World Book Day
Children in school and at home took part in World Book Day activities. We enjoyed the David Walliams assembly and the children in school watched a live zoom lesson with the author Nathan Bryon and illustrator Dapo Adeola. The children also took part guessing our school staff in 'The Masked Reader.
Christmas Cards
Here are our Christmas cards to the class.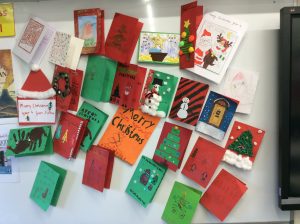 Dance with Olivia
In dance this week, in honour of Diwali, we looked at Indian Dance. We learnt some the gestures used in Bharatanatyam (South Indian Dance) and Kathak (North Indian Dance) Both dance styles are derived from the Hindu religion. Each hand gesture has it's own meaning and can be used to tell a story through dance.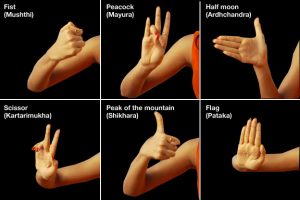 Remembrance
We have commemorated Remembrance Sunday and Armistice Day in class by creating poppies using oil pastels in the style of the artist Georgia O'Keefe Year 4 Poppy Art. The children have also created their own poems about Remembrance.
Here is the display we added to the school poppy altar display with Florence's poem in the centre.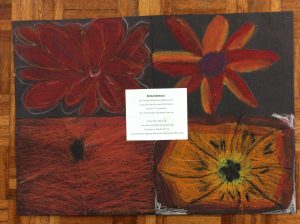 History Projects on the Romans
The children have shared some super research on the Romans that they presented to the class. I'll post photos of the work on here this week. Take a look at Orla's powerpoint, which includes a Roman make-up tutorial from Orla! Orla's Presentation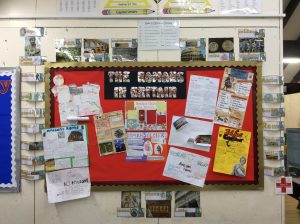 World Space Week
We have celebrated World Space Week by looking at the technology used in space and careers in this area of science. This links well with our geography topic on 'Earning a Living'. We watched a webcast from Tech We Can
Then the class designed a space scene – take a look at Our Space art work
We have enjoyed reading 'Look Up' by Nathan Byron- Waterstones Children's Book of the Year. It is the story of a girl called Rocket who dreams of becoming an astronaut like her inspiration, Mae Jemison
Collective worship
Groups of children planning their own collective worship to share with the class and writing their own prayers at home using our class prayer book.
Playtime
Enjoying the Autumn sunshine!
Daily Mile
We have built in the Daily Mile into our school day since returning back to school. The aim is to try and run a mile by walking, jogging or running for fifteen minutes.
Castleton Trip 2021