Home learning links and resources Wednesday 13th January
Tuesday 12th January
Year 4 Home Learning Weekly Plan
Teacher – Mrs Sibson
Teaching assistants – Mrs Meola, Mrs Godsall and Mrs Armstrong
Welcome to our Year 4 class page. Here you will find updates of what we have been learning about in class and links to help with homework.
Along with their spellings, the children will be tested at the end of each week on their times tables. WC 14th December. No test this week.
Maths and English homework is given out every Friday to be returned to school completed by Monday morning.
Your child needs to being in their reading book and reading record every day. All books will be changed each Friday.
PE takes place on Thursdays and Dance takes place on a Friday afternoon. Both indoor and outdoor PE kits are to be kept in school for the half term.
Some lovely ideas for books as a gift for Christmas for your child can be found here Book Gift Guides
October Half Term Homework– Due in Monday 2nd November
Westlandia English Homework
Our guided reading book this term is The Firework Maker's Daughter by Philip Pullman. We are also reading for pleasure our class novel, The Accidental Prime Minister by Tom McLaughlin.
Knowledge Organisers
Christmas Cards
Here are our Christmas cards to the class.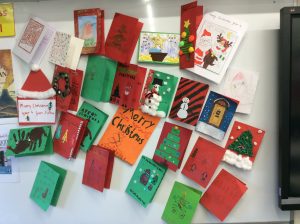 Dance with Olivia
In dance this week, in honour of Diwali, we looked at Indian Dance. We learnt some the gestures used in Bharatanatyam (South Indian Dance) and Kathak (North Indian Dance) Both dance styles are derived from the Hindu religion. Each hand gesture has it's own meaning and can be used to tell a story through dance.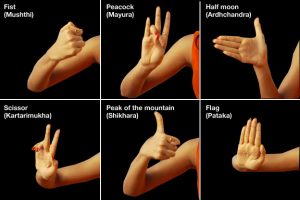 Remembrance
We have commemorated Remembrance Sunday and Armistice Day in class by creating poppies using oil pastels in the style of the artist Georgia O'Keefe Year 4 Poppy Art. The children have also created their own poems about Remembrance.
Here is the display we added to the school poppy altar display with Florence's poem in the centre.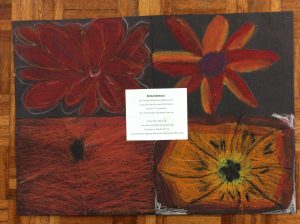 History Projects on the Romans
The children have shared some super research on the Romans that they presented to the class. I'll post photos of the work on here this week. Take a look at Orla's powerpoint, which includes a Roman make-up tutorial from Orla! Orla's Presentation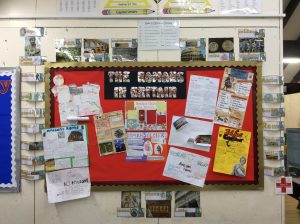 World Space Week
We have celebrated World Space Week by looking at the technology used in space and careers in this area of science. This links well with our geography topic on 'Earning a Living'. We watched a webcast from Tech We Can
Then the class designed a space scene – take a look at Our Space art work
We have enjoyed reading 'Look Up' by Nathan Byron- Waterstones Children's Book of the Year. It is the story of a girl called Rocket who dreams of becoming an astronaut like her inspiration, Mae Jemison
Collective worship
Groups of children planning their own collective worship to share with the class and writing their own prayers at home using our class prayer book.
Playtime
Enjoying the Autumn sunshine!
Daily Mile
We have built in the Daily Mile into our school day since returning back to school. The aim is to try and run a mile by walking, jogging or running for fifteen minutes.