Year 4
Teacher – Miss Holland
TA – Mrs Pollitt
Welcome to Year 4
Class Page. Here you will find updates of what we have been learning about in class and links to help with homework.
Knowledge Organisers
Tour of Britain
We learned about the Tour of Britain that will be riding through Tameside this weekend. We designed cycling jerseys that the bikers could ride as they travel through Stalybridge!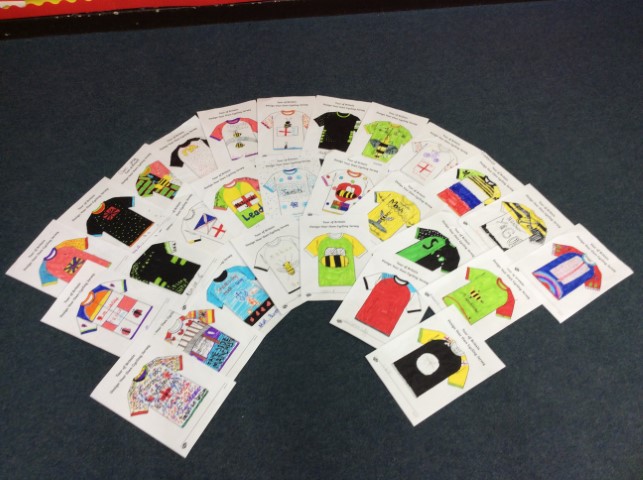 Prayer Walk
We loved our prayer walk thinking about God's beautiful creation. We thought about all of the plants and animals, offered prayers to God and read from the bible. Along the way we also found Aoife's poster designed for the Friends of Gorse Hall!
Stalybridge Library
We enjoyed our trip to Stalybridge Library to explore their books!
Food Technology
We loved making cheese flan with Zoe and tasting the difference between wholemeal pastry and white pastry as part of our food technology day. Our favourite part was eating it!
Collective Worship
We love taking part in collective worship. Here are some of our beautiful altars and prayers from our recent collective worships.
Victorian Stalybridge and Blue Plaques
As part of our history topic, we walked around Stalybridge and looked at the many blue plaques. These help to tell the history of our town and its people.
We also looked at old photographs of Stalybridge and compared them with the town today.
Pictish Stones
We enjoyed making Pictish Stones using clay in Art. Some of us used the 'ogham' alphabet to write our names, whilst some of us chose symmetrical patterns or carvings of battle. We painted these by mixing white, black and silver paint to create a stone effect.
Ascension
We discussed the Ascension and thought about the thoughts and feelings that Jesus and the disciples might have had at this time.
Teeth
We have learned about the different kinds of teeth we have; incisors, canines and molars. We used tools to act out the job of each different kind of tooth when eating. We used a knife (incisor), fork (canine) and glue pot (molar) as well as some saliva (water) to break down banana and biscuit until it was the correct consistency to swallow.
Sponsored Walk
Year 3 and Year 4 spent a lovely afternoon in Cheetham's Park for their sponsored walk, raising money for the NSPCC.  We completed lots of circuits and raised lots of money.
World Book Day
We loved dressing up as our favourite characters for World Book Day. It was lovely to share a story with our friends in Reception.
Gorse Hall
We enjoyed our walk around Gorse Hall finding the signs of Spring (even though we got caught in the hail!).
Art
Our Geography topic last term was Madagascar. We linked our art work to this topic, painting our own versions of the Madagascan Sunset Moth. We looked at the work of artist Lucy Arnold and tried to recreate this. First painting the background, before sketching the shape of the moth and using watercolours to paint the wings and body. We added the black patterned detail later.
We also wrote non-chronological reports about the moth in English and some of us were able to word process the complete report!
Design and Technology
We used paper to build structures. We used different techniques to strengthen and connect pieces of paper and let it stand up. Our challenge was to see what the tallest tower would measure, made out of just one piece of paper. It was almost a metre tall!
History
Could we solve the mystery of the empty Saxon grave? Yes, we could! We looked at the items found in the grave and thought about the type of person these might belong to. We used these clues to find out that it was probably the burial site of the Anglo Saxon 'Bretwalda' (super king) Raedwald!