Teacher – Mrs Warran
TA – Mrs Armstrong and Mrs Broadbent
Welcome to Year 3
Here you will find updates of what we have been learning about in class and links to help with homework.
Knowledge Organisers
Please click on the link for strategies to help your child learn important number facts:
Maths
For our Art in Maths morning we looked at symmetry. We used tracing paper to trace an insect and then used a line of symmetry to copy the insect.
We also made pictures from the circles (a 2-d shape).
In maths we have been looking at 'Perimeter', we found lots of perimeters to measure around our school grounds.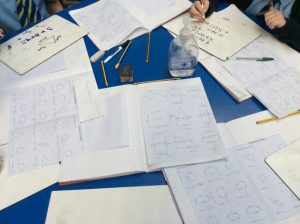 Art
Last term we were looking at the artist Maud Lewis. Maud Lewis was famous for her Folk Art. She was inspired by the landscape of Nova Scotia, which was the area that she lived.
RE
In RE we hot seated Mary asking her and the Angel Gabriel about the Annunciation and how it made her feel.
World Mental Health Day
For World Mental Health Day we enjoyed a relaxing morning with a beautiful meditation. We thought about being positive, then we wrote a Thinking Positive Poem.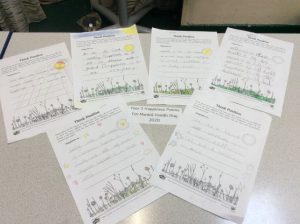 English home learning: Alice in Wonderland text – Year 3 – 15th January