Teacher – Mrs Russell
TA – Mrs Edge
A Warm Welcome to Year 2 from Mrs Russell
A Warm Welcome to Year 2 from Mrs Russell
I would like to wish you and your child a warm welcome into Year 2. I hope the children all have a lovely year and learn lots of new and exciting things.
There are a few little pieces of information that I think will be useful for you to know as we go through the school year. This information will also be available on the school website. If you would like to speak to me about any issue you are more than welcome to come to Y2's door before the bell goes at 8.50am, or, if you prefer, at home time. If this isn't possible please give me a call and we can arrange a mutually beneficial time. Alternatively, you can always send me a little note.
Staff
I will be with the children every day. However, I will not be in on Monday afternoons and Wednesday mornings. On these days, Mrs Summersgill will be teaching our special topics of science and geography/history.
Mrs Edge is our Teaching Assistant and she will be in class every day.
P.E. and Dance
The children need their PE kit to be in school on Wednesdays and Thursdays. We will being doing dance on Wednesdays in Autumn 1, Spring 1 and Summer 1, and PE with Terri every Thursday. PE kits can be taken home at the end of each half term.
Reading Books
We hear the children read daily during our Guided Reading sessions. Alongside this, we hear them read their reading books at least once a week. Please could the children bring in their reading books everyday so that we can use every available opportunity to hear them read.
Increasing Responsibility
As the children are now the oldest in KS1, we have allocated everybody a special job or role to carry out. This helps them to become more independent and reflects their growing maturity. They should all be able to tell you what their special job is. These little jobs will change each half term.
Star of the Day
We will be celebrating 'Star of the Day' in Year 2. We will have a class poster displaying a photo of our 'Star of the Day' so anyone visiting our classroom can also celebrate their achievement. In addition to this, when a child is chosen as 'Star of the Day' they will receive a sticker and have the opportunity to bring our class mascot home.
I hope the children really enjoy their time in Year 2. As stated above, any problems or queries please let me know.
Thank you,
Mrs Russell
Home Learning
Please use the following links to help you with the children's home learning.
Home Learning Wk2 Beg: 30th March
RE
Please find some links below to help you guide your child along their faith journey during school closure.
Home Learning – Keeping in touch photos
Ava is working well independently, especially on her maths and reading activities, and she particularly enjoyed the comprehension about garden birds – we have been doing a daily survey of the different birds that visit our garden and comparing these each evening with Ava's nana. We've even had a pups' talent show during lockdown!
Knowledge Organisers
Science Growing Seeds
Prayer Share Love
Hundertwasser
Geography – Kenya
A leaf promise for the New Year
Making Christmas Crowns
Anti-Bullying Week
We marked Anti-bullying week by wearing our odd socks to school and talking about how we can celebrate our differences. Each class did their own circle time. Year 2 talked about how our words and actions can affect other people. They passed around 2 apples – speaking kind words to one and unkind words to another. They then cut the apples open and saw how their unkind words had bruised the inside of the apple. This really made the children think about how their choice of words might not visibly hurt somebody but could really hurt them inside. This is something you could discuss further with your child at home.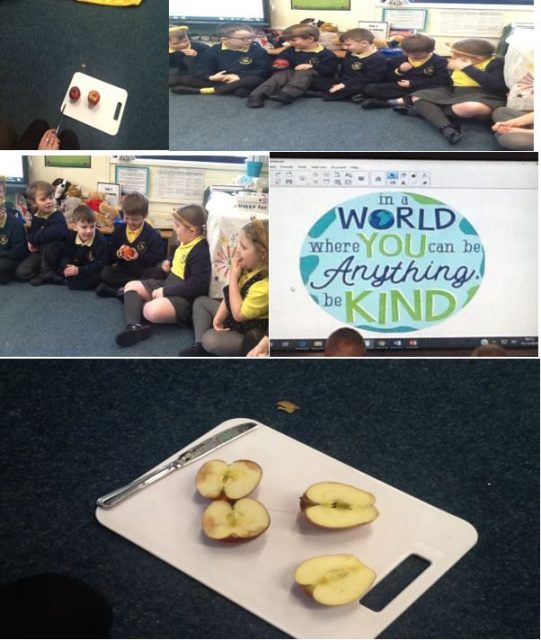 Science – Why we need exercise
Letter from the Queen
Great Fire of London Design Technology Day
Feather Writing
Diwali
Forest School
Daily Mile
Prayer Share
Hello Yellow – Mental Health Awareness
Guided Reading – Giraffe Pelly and Me
Geography – London
Book Buddies
Art – Claude Monet
Space Day