Teacher – Mrs Russell
TA – Mrs Armstrong and Mrs S. Broadbent
A Warm Welcome to Year 2 from Mrs Russell
A Warm Welcome to Year 2 from Mrs Russell
I would like to wish you and your child a warm welcome into Year 2. I hope the children all have a lovely year and learn lots of new and exciting things.
There are a few little pieces of information that I think will be useful for you to know as we go through the school year. This information will also be available on the school website. If you would like to speak to me about any issue you are more than welcome to come to Y2's door before the bell goes at 8.50am, or, if you prefer, at home time. If this isn't possible please give me a call and we can arrange a mutually beneficial time. Alternatively, you can always send me a little note.
Staff
I will be with the children every day. However, I will not be in on Monday afternoons and Wednesday mornings. On these days, Mrs Williams will be teaching our special topics of science and geography/history.
Mrs Armstrong and Mrs Broadbent are our Teaching Assistant and she will be in class every day.
P.E. and Dance
The children need their PE kit to be in school on Wednesdays and Thursdays. We will being doing dance on Wednesdays in Autumn 1, Spring 1 and Summer 1, and PE with Terri every Thursday. PE kits can be taken home at the end of each half term.
Reading Books
We hear the children read daily during our Guided Reading sessions. Alongside this, we hear them read their reading books at least once a week. Please could the children bring in their reading books everyday so that we can use every available opportunity to hear them read.
Increasing Responsibility
As the children are now the oldest in KS1, we have allocated everybody a special job or role to carry out. This helps them to become more independent and reflects their growing maturity. They should all be able to tell you what their special job is. These little jobs will change each half term.
Star of the Day
We will be celebrating 'Star of the Day' in Year 2. We will have a class poster displaying a photo of our 'Star of the Day' so anyone visiting our classroom can also celebrate their achievement. In addition to this, when a child is chosen as 'Star of the Day' they will receive a sticker.
I hope the children really enjoy their time in Year 2. As stated above, any problems or queries please let me know.
Thank you,
Mrs Russell
Knowledge Organisers
Art
We have been getting very creative in Art. We used Lego bricks, paper and wax crayons to create rubbing patterns and then frottage to create a picture of Paddington Bear. Here are some examples of our work.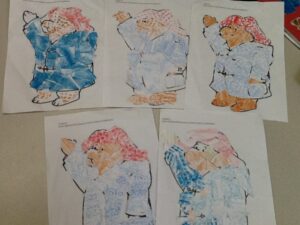 Using kind words
We have been thinking about the importance of using kind words to others. We passed one apple around the circle and we all said lovely kind things to it with a smile. Then we passed the other apple around the circle and said lots of unkind words with cross faces. Both apples looked the same on the outside but when we cut them open we had a big surprise. The apple that we had been unkind to was all bruised and hurt. We now know that if we have nothing nice to say, we should say nothing at all.
Art
Year 2 had a lovely time getting creative in Art. They used everyday objects to print and make patterns. Here are some examples of our work.
Paddington Bear
We have a very special visitor in the year 2 classroom this week. Our special visitor is Paddington Bear. We have enjoyed learning all about Paddington Bear and have enjoyed making Paddington's favourite food, marmalade sandwiches! After we made our sandwiches, we had a lovely picnic together and enjoyed eating them.