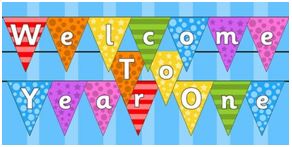 A warm welcome to Year 1 from Mrs. Cooke and Mrs. Kirkpatrick!
In Year 1, our aim is to ensure that the children experience a smooth transition from the Foundation Stage to Key Stage One. The Year 1 curriculum builds upon and extends the experiences that children have had in Reception. Learning through play will continue to be an important part of the school day, and the children will gradually be eased into more formal learning as the year goes on so that they remain motivated, enthused and eager learners.
Please do not hesitate to come and see us either before or after school if you have any questions or queries. Before school we would ask that you come in before 8.40, as we need to ensure we welcome the children on time and with our full attention.
If you wish to contact us, please either call the office or you can also email us at
year1@st-peters.tameside.sch.uk. Please be aware that teachers may not be able to respond to emails immediately and all matters that need handling promptly should be directed to the office, or by speaking to us before or after school.
We hope that your child has a happy and fun year in Year 1 – we look forward to seeing them shine every day 😊
Just a few reminders:
Staffing structure:
Class teachers: Mrs. Cooke (Mon-Weds) and Mrs. Kirkpatrick (Thurs-Fri)
Teaching assistants: Mrs. Green and Mrs. Callaghan (AM only)
PE Kits
Please make sure your child's PE kit is fully labelled and in school. These will be kept on your child's peg until the end of each half term when they will be sent home for washing. Our PE day is Thursday and in Autumn 1 we will also be changing for Dance on Wednesdays.
Reading books
Year 1 is a really important year for children's reading development. Once your child has been issued with a book, please read with your child every night and note a brief comment in their reading record about how they did. Please send their reading book and record in every day. We will move your child to the next book when they are confident with the book they are on. We will read with your child at least once per week and plentiful reading opportunities will also be embedded into the curriculum and during their free learning time.
Spellings
Your child will receive a set of spellings every Monday – please help your child to learn these (reading and writing) at home for a little spelling challenge on Fridays.
Homework
Homework will be given out on a Friday – one piece of English and one piece of Maths. It will usually be a consolidation of what we have been learning about in class and should not take longer than around 15-20 minutes. Please return homework books on a Monday morning.
Water bottles
Until further notice, children will still need to bring a labelled bottle of water into school.
If you have any questions whatsoever, please do not hesitate to ask.
Thank you for your continued support,
The Year 1 Team 😊
Knowledge Organisers
RE/Prayer and Liturgy
We had a Creation-themed Prayer and Liturgy today. We sang 'If I were a Butterfly' and children then listened to the story of Creation from the book of Genesis. We talked about what God created on each day and the children were then challenged to help Mrs. Kirkpatrick to create a beautiful world of their own. The children thought so carefully about what to put in it and took turns to choose items to complete the beautiful world. They then went on to complete their very own versions in their RE books. Well done Year 1!
Science
We had fun in Science singing action rhymes and playing games to help us to learn the parts of the body and the five senses. We sang: Heads, shoulders, knees and toes and the Hokey Cokey. We played: 'I Spy' (seeing) and 'Who's that knocking?' (hearing). We talked about how our bodies felt after doing lots of movement – warm, hearts beating faster, heavier breathing and sweatier!
A fun 'mathternoon'.
Year 1 showed off their super number skills on Friday by exploring lots of different counting and number recognition activities. Children could explore each challenge area independently and had different tasks to complete at different ability levels. Well done Year 1!

First Week
What a super first week we had in Year 1! We were very busy exploring our new classroom and finding out all about our new activities, resources and areas of provision! We also got to spend time cuddling our class pet, Dave the sloth, during our circle time where we talked all about the fun we had during the summer holidays.
Every single one of our fabulous "Team Year 1" were superstars! We are going to have the best year.