Teacher – Miss Southall
TA – Mrs Green
Welcome to Year 1. We hope that this page will give you some useful information, but also show you some of the fun things we have been learning about and doing in our lessons. Please see the link to our Parent Planner below, which outlines our topics for the Autumn Term. We will add photographs throughout the year of the exciting work we have been doing and any trips we have been on!
Thank you for all your support, and if you have any questions please do not hesitate to ask.
Knowledge Organisers
Home Learning – Monday, 11th January
Compare weight – recording table
Easy – heavy and light cut and stick
Week Commencing Tuesday 4th May 2021
After a nice long bank holiday weekend, everybody was eager to put their learning hats on for another super, hard working week.
Looking after our Mental Health and Wellbeing
This week we introduced the Zones of Regulation to the children. The children discussed different feelings and what might trigger them from moving out of the green zone (feeling calm, happy, and focused) and into a different zone.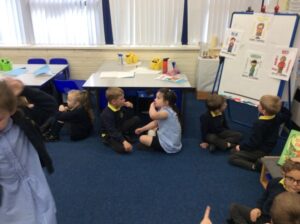 Monster Miggie the Worry Monster
Year 1 would like to introduce to you, Monster Miggie the worry monster (named by Year 1). Monster Miggie is here to eat everybody's worries. If the children have a concern or a worry, they are able to share it privately with Monster Miggie who eats it up and takes the worry away.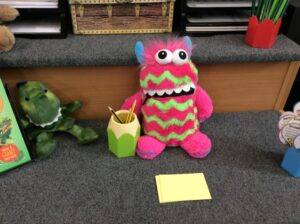 Omnivores, Carnivores and Herbivores
Oh no! Year 1 has been invaded by some smelly dinosaurs!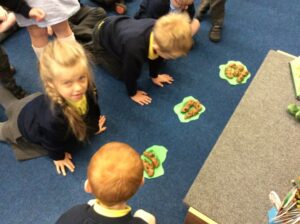 Year 1 had to put their science hats on today and investigate what kind of dinosaur had left a mess on their carpet! It appeared that more than one type of dinosaur had left their mark!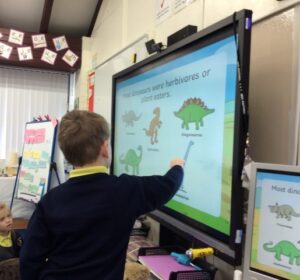 Summer 1 Week 1
Welcome back Year 1!
On Monday, the children were excited to share their spring holidays with their friends. We sat together for a circle time and listened to each other attentively.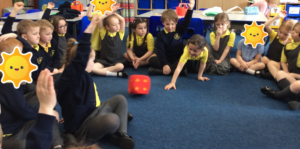 We have had lots of sun this week. A great excuse to get outside and have some fun! In class, we have been focussing on working as a team and building on our listening and communication skills.
We took our learning outside and used a parachute to apply our listening and communication to work together as a team. The children had to work in teams to flip off coloured bean bags.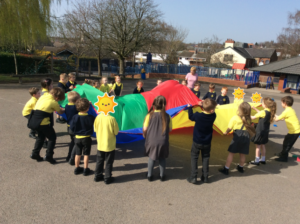 Ahh, what is that I see?!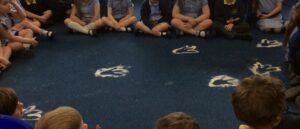 The children were surprised to see giant footprints on their carpet this week. A dinosaur had visited the classroom! The dinosaur had come to introduce our dinosaur theme for this half term.
Spring 2 Week 6
What a way to end the term! We have had a lovely week.
We have been busy designing and creating our RE art display.
Our display was based on Philippians 4:13, "I can do all this through him who gives me strength."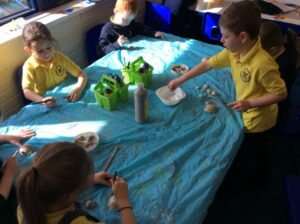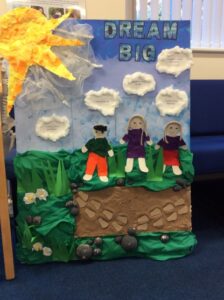 We have also enjoyed preparing for Easter this week. The children took part in a lent walk and visited different stations throughout the school.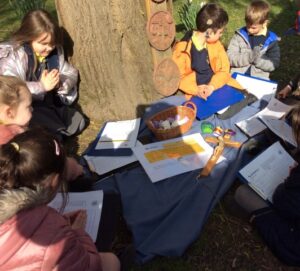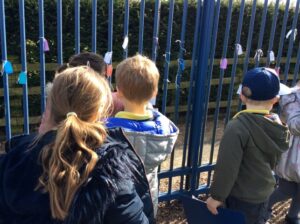 To finish the final week of term, the children made chocolate Easter chick nests and had a surprise visitor… The children arrived at school on their last day and found the playground full of Easter eggs! The children loved hunting and collecting Easter eggs. We enjoyed counting how many we found and shared them out equally between us…However, I am still waiting for my share …!
Learning is FUN!
It has been another great, fun-filled week in year 1.
History and English – Homes from the Past
We have continued to learn about homes from the past and on Wednesday the Tudors arrived in school. We enjoyed trying on clothes from the past and comparing differences and similarities between past and present times.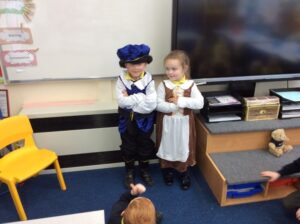 Design and Technology Day
Friday was year 1's Design and Technology day. The theme was houses and so we linked it to our History topic 'Homes from the Past.'
The children were really interested in Tudor houses and so we decided to build our own. We looked at the features of a Tudor House and made a list of the characteristics and features we would need to include on our own design such as, the famous Tudor overhang (jetty) and black and white colouring with wooden beams.
The children loved working together to mock build their houses. They decided which boxes would be best for the top middle and bottom. Everyone worked together to discuss how they could stick the boxes together and cover them to create the white look, before adding wooden beams.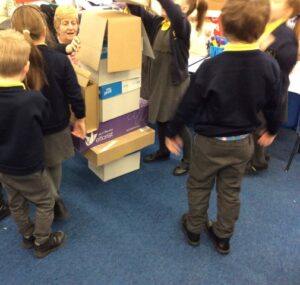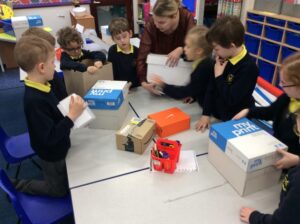 Team Year 1!
The final designs were fantastic. The children worked extremely hard and together as a team throughout the day. Children used their design thinking skills and offered suggestions to solve problems. We are very proud of Year 1. What a brilliant day.
Class Work
Fun with Fractions!
This week, in maths, we have been learning about halves and quarters.
This morning we had a food delivery in year 1! However, we needed help sharing the food! The children have enjoyed using practical activities to help strengthen their understanding of fractions.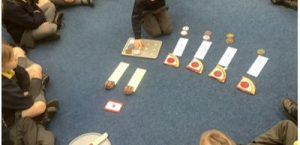 Victorian Homes and Artefacts
Cross curricular – History and English.
Today we enjoyed learning about Victorian homes. We explored Victorian artefacts and discussed similarities and differences between past and present home life.
The artefacts helped inspire the children's writing and consequently the children wrote some beautiful sentences. We also listened to music on a gramophone whilst we wrote (a request from the children!).
A lovely lesson.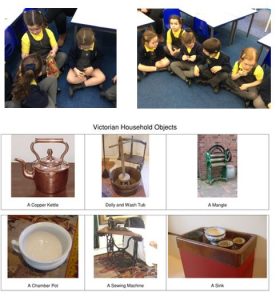 Science – Exploring and Investigating Different Materials
Today, in our science lesson, the children used their investigation skills to observe differences and similarities of a variety of materials.
The children explored trays containing a selection of materials and worked together to identify the 'odd material' that had a different property to the rest. We investigated hard, stretchy, floppy, magnetic, plastic and metal materials.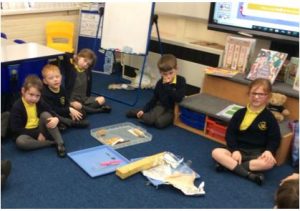 Science Day!
Today was Science Day and we had a FAB time!
It has been a jam-packed day filled with investigations and experiments. The children have loved being scientists today. We have made predictions, discussed fair tests, observed, investigated, and carried out plenty of egg-speriments!
The Great Egg Drop Challenge – What kind of container will stop an egg from breaking?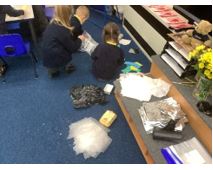 Choosing materials to make our containers.
The children explored and investigated a variety of materials. We predicted which materials would best protect our eggs and used these predictions to help create a container.

How Strong is an Egg?
This was lots of fun and sparked great discussion amongst the children. All children were involved and eager to predict and investigate the strength of an egg.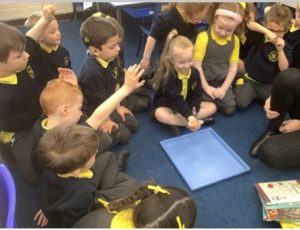 Each child held the egg in the palm of their hand and squeezed (with the best squeezing faces you have ever seen), as hard as they could, to see if the egg would crack. The children were mesmerised when the egg would not break.
We later enjoyed learning about why the egg would not break.
How strong is an egg – continued.
The Book Balance Challenge!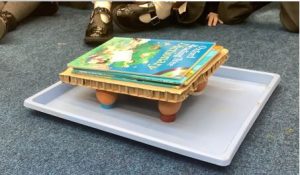 This experiment involved 4 eggs and lots of books! We investigated to see how many books the eggs would hold before they cracked.
The children made predictions and originally believed that the eggs would crack after one book. 22 books later, the children were astonished that the eggs still had not cracked.
Finally, after discussing the different weights of each book, we decided to place an 'extra heavy' book on top of the pile. The cheers and delight at the eggs finally cracking was a wonderful moment to experience.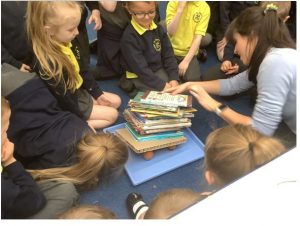 Eeek! "Miss Southall, it's going to SMASH!"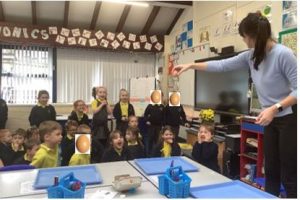 Science Week
On Monday we arrived at school to find a lovely surprise. Eggs had been delivered!
We have enjoyed watching the eggs grow and observed the small daily changes.

Ash Wednesday
We gathered for Collective
To celebrate Ash Wednesday, the children gathered for a collective worship. During the collective worship, we sprinkled ashes over each child's heads along with the words 'Be good for Jesus.'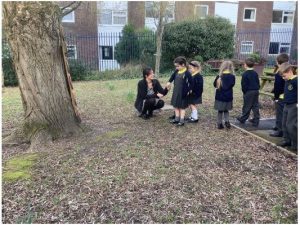 We then visited the peace garden to release the remaining ashes back in-to the earth. This was a lovely opportunity for the children to share their Lent promises. We ended with a prayer for all of the children re-turning to school the following week.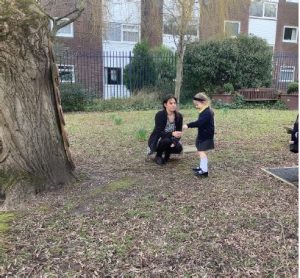 We learnt that the ashes are made by burning palm leaves on Shrove Tuesday and are usually mixed with oil or holy water.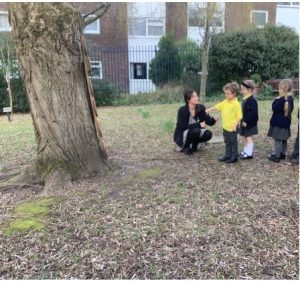 World Book Day!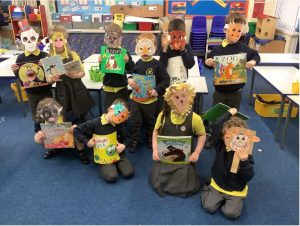 World Book Day was a fun filled day! We all loved watching the masked reader! It was fun trying to identify each teacher. The children made their own masks and we sat together to share our favourite books – whilst eating biscuits!
We LOVE reading in year one!
Tuesday 9th March 2021
This weeks story in Literacy is The Odd Egg, which links nicely to Science week and the chicks we have hatching in school.
Today in Literacy, we used 'freeze frames' and 'thought tapping' to capture moments of the story and how the characters may have been feeling.
We had great fun and it helped inspire the children's independent writing.