Reception
Teacher – Mrs Warran
HLTA – Mrs Walker
Welcome to Reception at St. Peter's Catholic Primary School. We hope that this webpage will help you to find out a bit more about the way we learn in Reception.
Our curriculum is organised into seven areas. These are:
1. Personal, Social and Emotional Development
2. Communication and Language
3. Physical Development
4. Literacy
5. Mathematics
6. Understanding the World
7. Expressive Arts and Design
The area numbered 1, 2 and 3 are called 'Prime Areas.' These three areas help us to develop a range of important skills that are strengthened and applied in the areas numbered 4, 5, 6 and 7. These are called 'Specific Areas.' All areas are interconnected and of equal importance to our learning and development.
On a typical day in Reception we learn through a balance of adult-led and child-initiated activities. This means that we work with an adult on some activities and spend part of the day working independently in our areas of continuous provision.
Lots of learning takes place in Reception, both indoors and outdoors.
January 2016
In Reception this term we are focusing on Traditional Tales and Rhymes.
We have already looked at Goldilocks and the Three Bears. Goldilocks secretly visited our classroom and ate my porridge! The children wrote " Wanted" posters to warn others of her mischievous ways.
The children sampled porridge with different flavours and completed a graph showing their favourite flavours.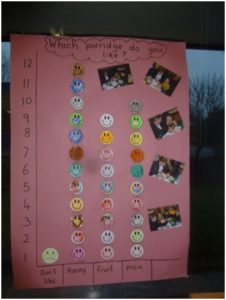 The Gingerbread Man is our traditional tale for this week.
The children have enjoyed making and decorating gingerbread men. They have done some fantastic writing using speech bubbles too.
We will continue with traditional tales looking at Cinderella and Jack and the Beanstalk.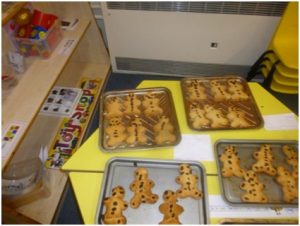 We will also be looking at how Chinese New Year is celebrated.
Mrs. Warran , Mrs. Walker and Mrs Edge
December 2016
In Reception, this term we have enjoyed learning about Ourselves, Autumn and Light and Dark. We had a lovely morning doing Diwali and Firework Activities on our Learning Links Day with Nursery. Thank you to the parents who helped on the morning and to the other parents who offered to help. We appreciate your continued support.
Reception had their first Class Mass last week. Our mass was based on God's Family. All the children took part in the Mass and worked hard to learn their role. Well done Reception for a lovely Mass.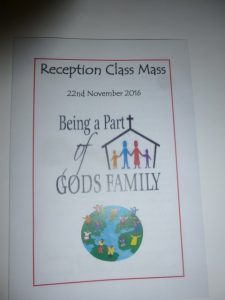 Over the next few weeks Advent will be celebrated in our Collective Worship, using our Advent Countdown Calendar. All the children have made a stocking for our class Advent Calendar.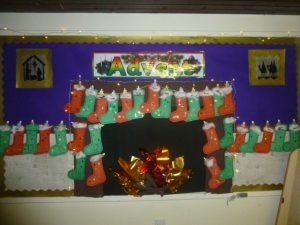 Our topic for the New Year will be Rhymes and Traditional Tales.