Welcome
 
Welcome to St. Peter's Catholic Primary
I hope this web site gives you all the information you need about our school and
an insight into the every day events and celebrations of school life.
St. Peter's is a Catholic Voluntary Aided school in the Diocese of Shrewsbury. We
are proud of our Catholic heritage passed onto us by the past generations of
Stalybridge Catholics. We believe we are a community that gives a positive
witness to our Christian faith with Jesus Christ at its centre.
Our school offers a broad and balanced curriculum for our 230 children ranging from
3 to 11 years. We aim to develop each child's potential by nurturing their
spiritual, moral, intellectual, physical, social and emotional needs. We aim
for excellence in all we do.
We try every day to live out our mission statement:
St. Peter's Catholic Primary School is at the heart of a Christ centred community where every person's uniqueness is celebrated with joy & truly valued.
We foster caring, supportive relationships based on mutual respect and love.
We embrace the different communities to which we all belong – home, school and parish, as well as our local, national and global families.
When we welcome the child, we welcome the family.
We strive for excellence in all we do; to be the best we can be.
Kind regards
Mrs Elaine M.Summersgill
Head Teacher
Chair of Governors Mr Phil Murphy
*Please note school will provide paper copies of any documents free of charge.
Keeping Children Safe – Information for Parents
Keep Switched On #it's not okay
Celebrating Ascension – May 2018
Releasing our balloons to celebrate Ascension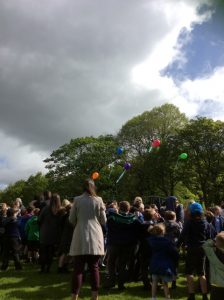 Canal & Rivers Assembly – keeping children safe around waterways.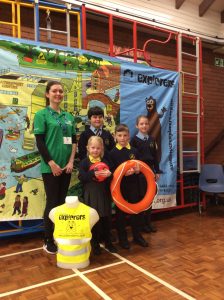 Meet our new 'jigsaw friends'!
New PSHE scheme – Jigsaw.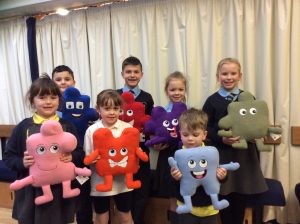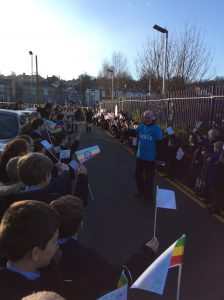 Walking For Mary's Meals
Well done to Mr Rob White who was waved off by the children of  St Peter's Stalybridge on his long walk to St Peter's Catholic Primary, Hazel Grove, where they welcomed him 3 hours later. All donations gladly received for Mary's Meals.
Tameside Athletics Competition 
Well done to the team, who came runners up overall. Boys won the  relay and girls won the obstacle race and came 2nd in the relay.